When renovating and remodeling your home, you may get stuck on what to do with your wall niche. A wall niche is an indentation in your wall that is usually in a box shape that is meant to add character to a room.
This however only happens if the wall niche is well decorated to bring its purpose to full glory. With this in mind, you may be wondering how to go about it. Well, there are different things you can do with your wall niche to ensure that it turns out great.
Thank you for reading this post, don't forget to the best blogger Guy About Home who offers the best garden and home improvement tips! If you are a home decor and design fan, don't miss the tips on home ideas. If you are a home garden owner, then you might be interest in our complete guides to house plants!
To do this you'll need to invest in the right decor pieces and embrace your creativity while at. Some of the best decor ideas to incorporate include:
Light it Up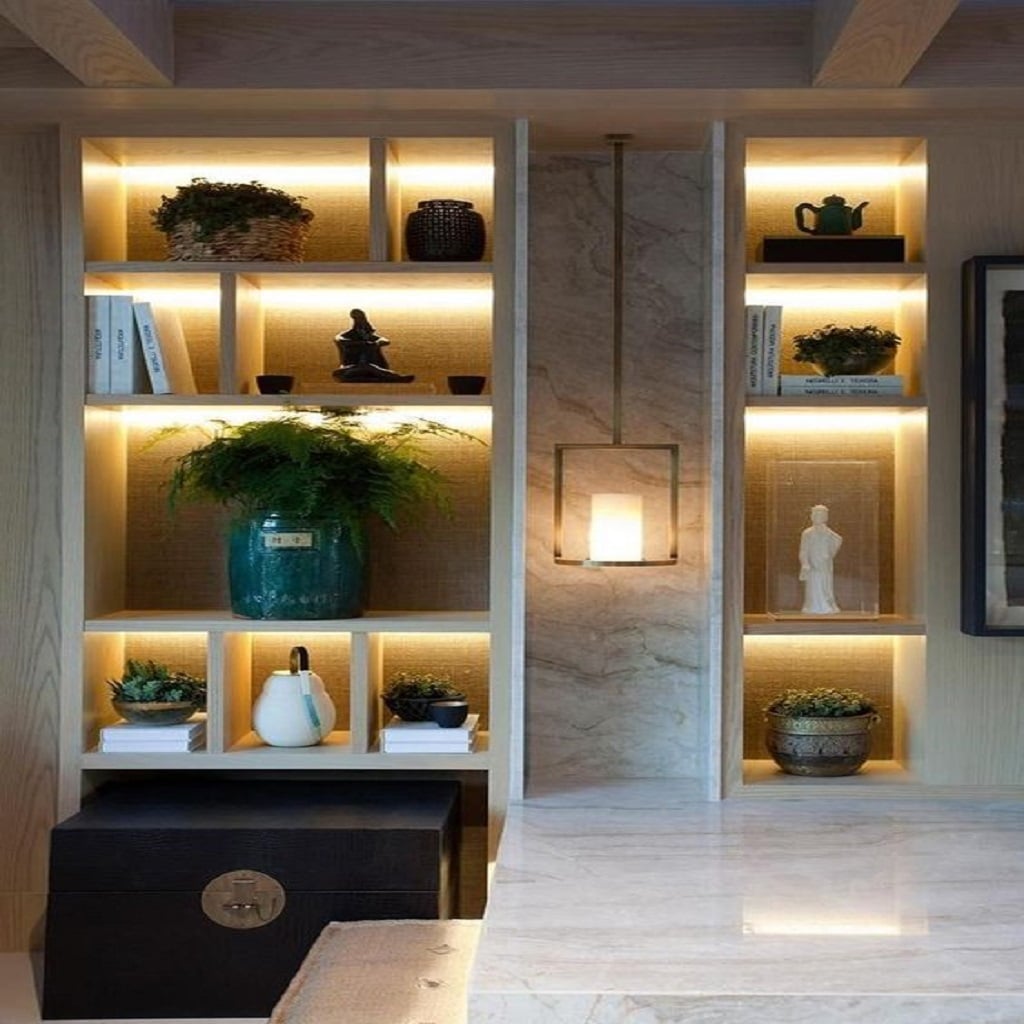 Source:
https://www.pinterest.com/pin/79235274684265286/
One of the best ways to spruce up the look of your wall niche is by adding lights that are bright and have an appealing color. This is an excellent way to improve the look of the whole setting.
For this, you have the option of using the usual light choices or investing in LED lights. Led lights will provide brighter light and will also have a wider range of colors for you to choose from.
Go Green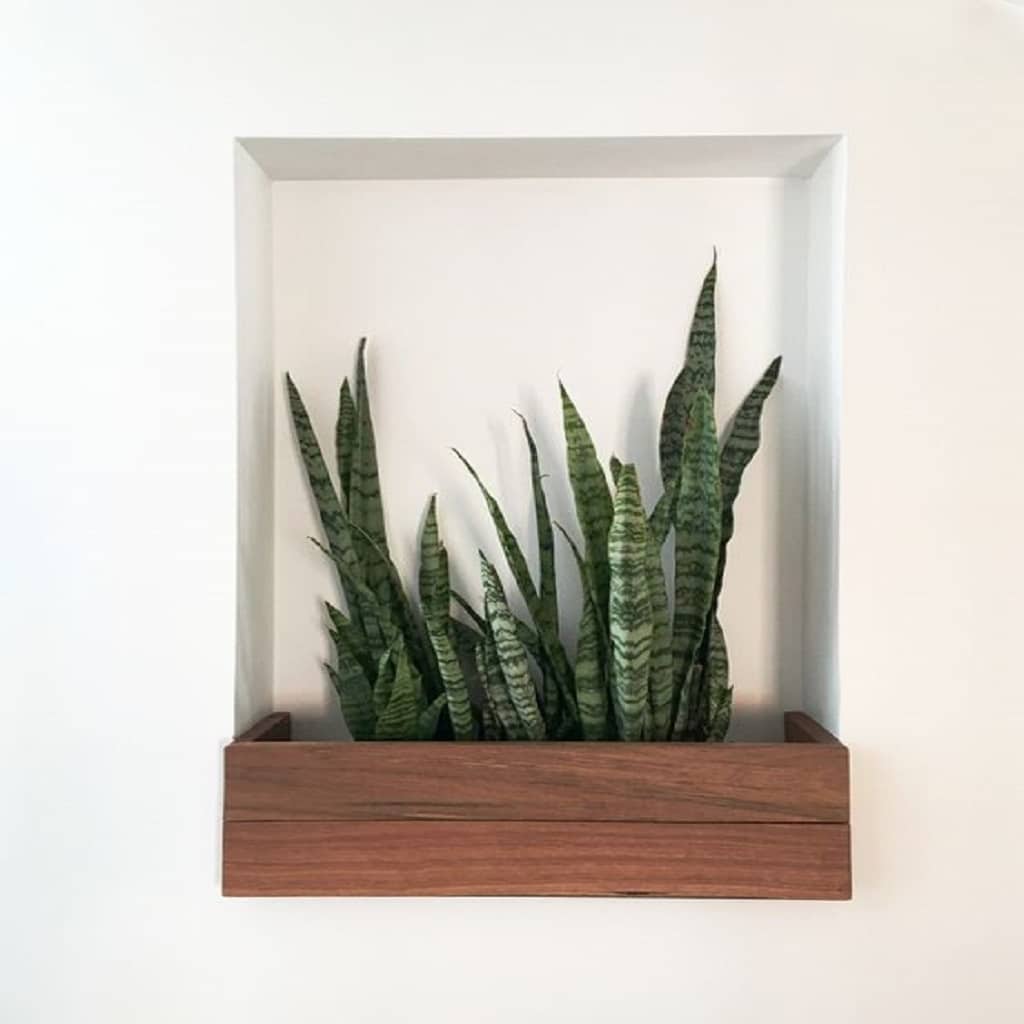 Source:
https://www.pinterest.com/pin/4996249576873300/
No doubt that adding pants to space gives it life and makes the room more lively and aesthetically pleasing. If you have no idea of what to do with your wall niche, consider having some potted plants in there. Indoor plants come with a lot of benefits which include improving the quality of air in a room among others.
With this, you'll be in a position to make use of the space while still enjoying such great benefits. As you choose your plants, be sure to stick to the ones you can easily care for. Remember some will need to be watered and weeded on a daily while others are not as demanding.
This will help you ensure that you do not invest in something that ends up wilting just because you couldn't take care of it. Additionally, remember to choose the right planters for the space you'll be working with to ensure they complement the look you are going for.
Add Some Shelves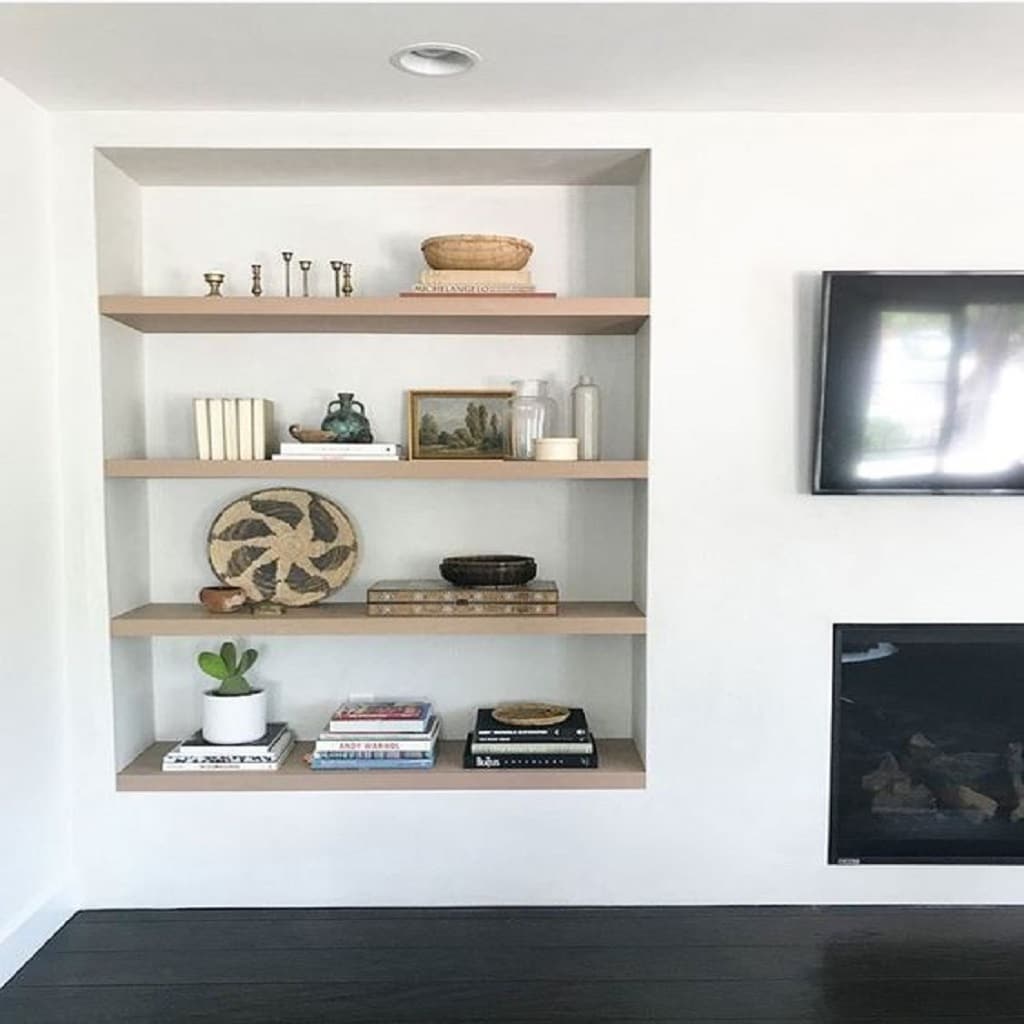 Source:
https://www.pinterest.com/pin/129478558025759882/
Open shelving is a great way to add character to your wall niche and get to enjoy the added storage spaces. To get the best out of this, you'll need to embrace color and find one that works best for you.
You also have the option of going with natural wood just make sure it is well polished and vanished. Additionally, you could also consider using some live edge wood for your shelving to make them look more visually appealing.
Once you have the shelves in, you can then include other decor pieces or have your books on display. This will add a great feel to the place and ensure that it is not left feeling empty. Be sure to experiment with color while also being mindful of the rest of the room to avoid going overboard.
Incorporate Some Firewood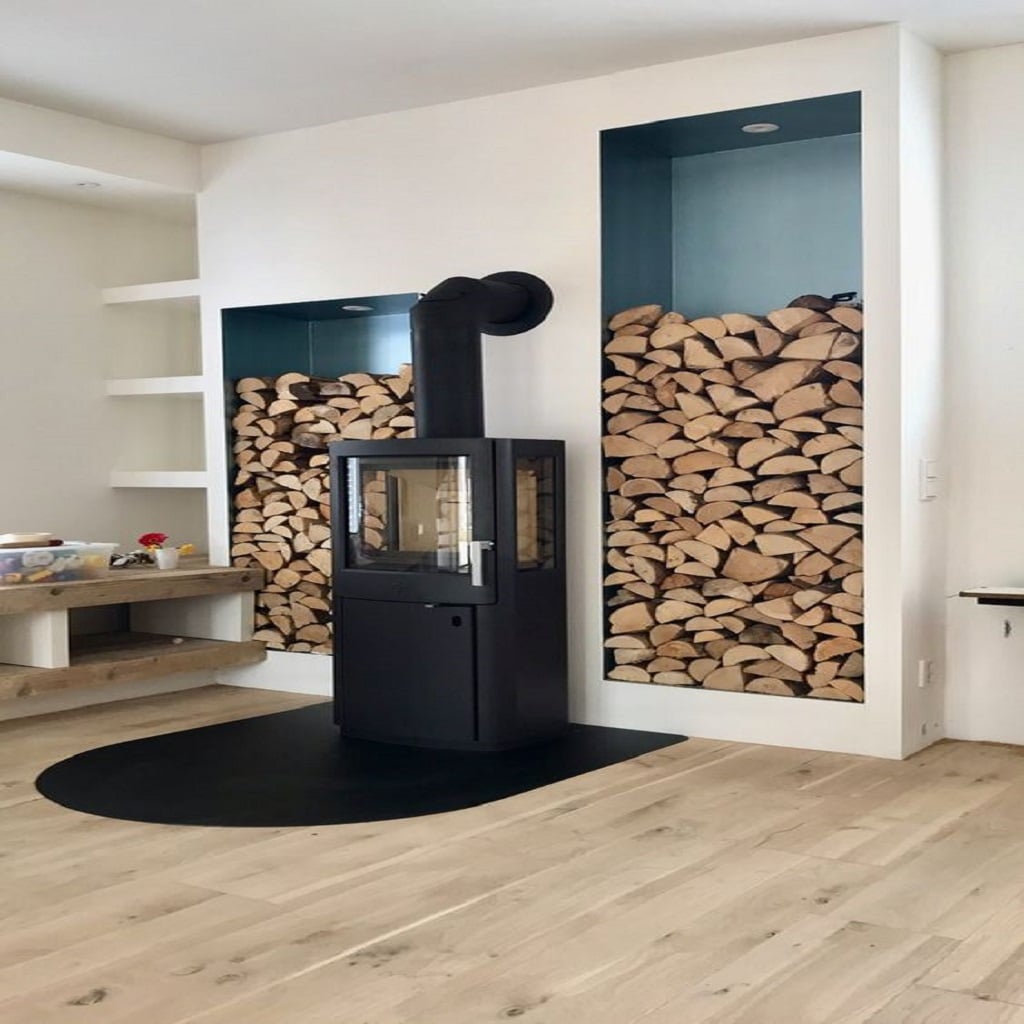 Source:
https://www.pinterest.com/pin/19773685852867256/
In most homes, you'll find the wall niche installed right next to the fireplace or right above it. This place can be a bit tricky to decorate which is why most people ignore it. However, this shouldn't be the case given that it can serve as a great storage space.
Get your Firewood cut into perfect sizes and stack them together to fill the space you're working with. This is a simple yet classy way to have your Firewood stored away while still adding some appeal.
You could also consider having a picture behind the logs of wood and ensure it's visible. This will be a great way to ensure that your wall niche is unique and well decorated. This wood can be meant to serve solely as a decor piece especially if you never use the fireplace. However, if that's not the case, once you remove a few logs be sure to replace them later.
Install Mirrors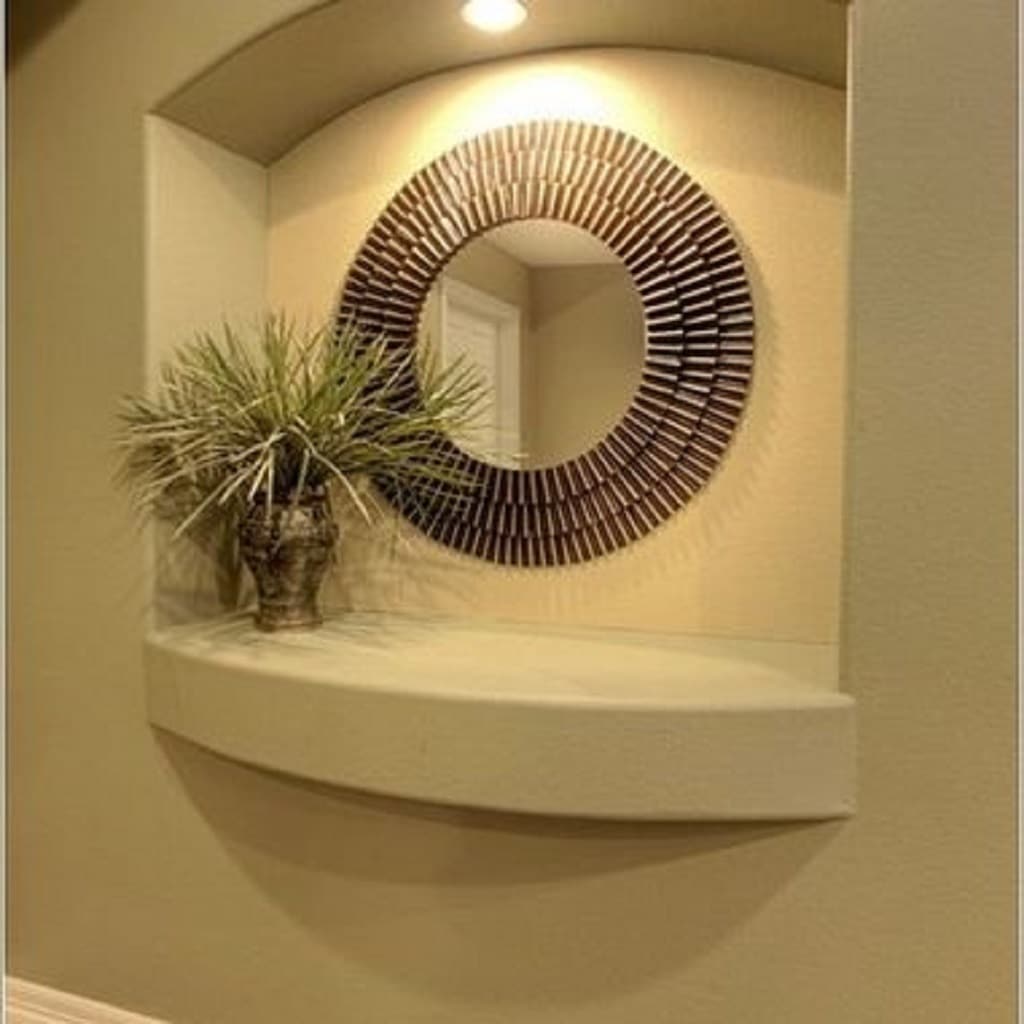 Source:
https://www.pinterest.com/pin/140806219712071/
Adding mirrors to your wall niche is a great way to add some character to it. Install the mirrors onto the wall and add some silver accessories to spruce up the look. You could also include a flower vase with your favorite type of flowers. This addition is a great way to ensure that your wall niche lives up to your decoration expectations.
Conclusion
Having a wall niche is a great addition to your home which may be a bit difficult to decorate. However, with the right decorations and information, you'll be in a better position to ensure that you take full advantage of the space.
Take your time to figure out which decor appeals to you and include them in your space. Keep in mind the general mood in your home and work toward complementing it with your wall niche decor.