Celebrations should not break the bank. Practical choices should be made especially for people on a budget. The same is true for you and your kid's parties. That is why there are printable birthday decorations for boy or girl celebrants and printable birthday decorations for adults.
Thank you for reading this post, don't forget to the best blogger Guy About Home who offers the best garden and home improvement tips! If you are a home decor and design fan, don't miss the tips on home ideas. If you are a home garden owner, then you might be interest in our complete guides to house plants!
paw patrol printable birthday decorations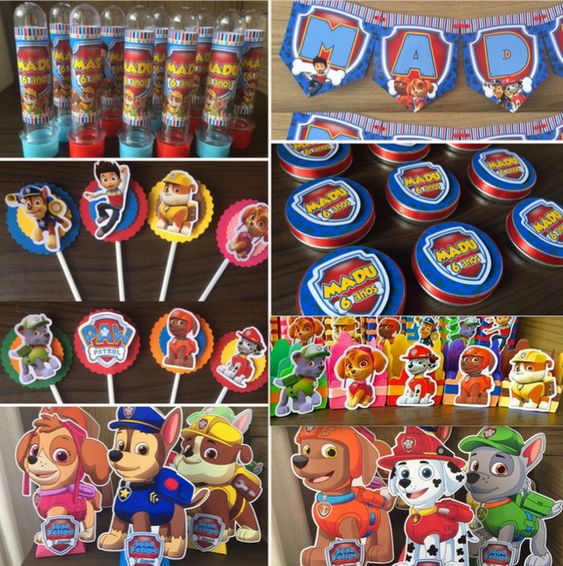 Image Source: Pinterest
Paw Patrol is a popular children's show that is the favorite of every boy and girl. They will definitely be amazed by the beautiful decorations and party favors and the guests won't even suspect that they are all DIY with the help of printables. Resources and choices abound for this popular show that is free for anyone who needs it.
cars printable birthday decorations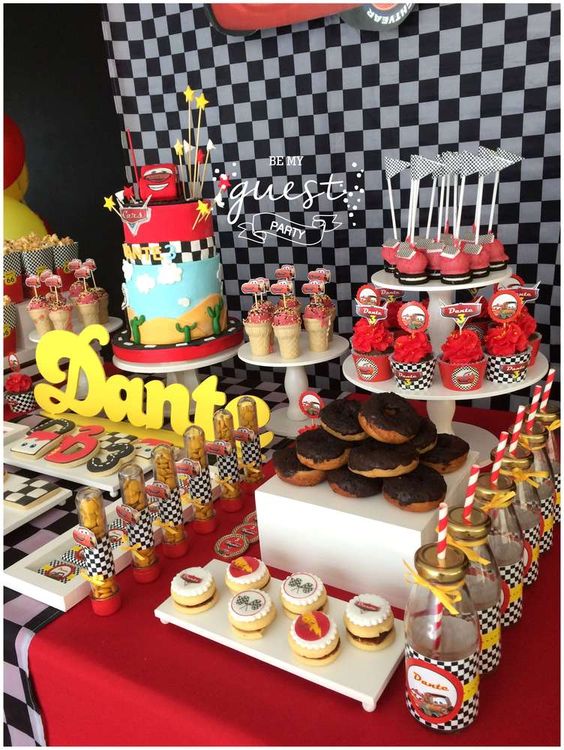 Image Source: Pinterest
The Cars movie has a good fan base of kids and even adults. The unique characters and beautiful story was enough for it to have loyal fans. It is also a good party theme due to its beautiful visuals and widely available printable labels, banners, cake and cupcake toppers, among others.
Image
What it is
Decoration feature
printable spiderman birthday decorations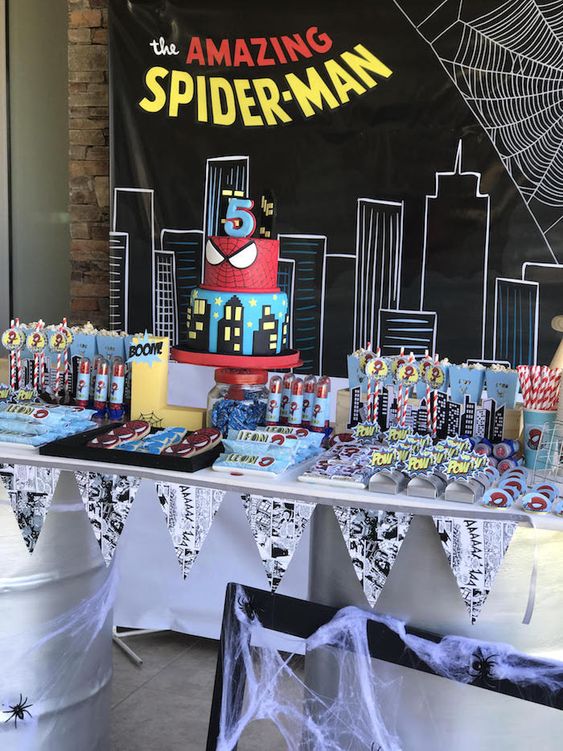 Image Source: Pinterest
Spiderman is a character who has stood the test of time. With over a dozen movies and TV shows, his appeal transcends generations making him the perfect theme for the next birthday party you would throw. What's more, is there are tons of graphics available for free no matter what kind of printable you are looking for.
printable mickey mouse birthday decorations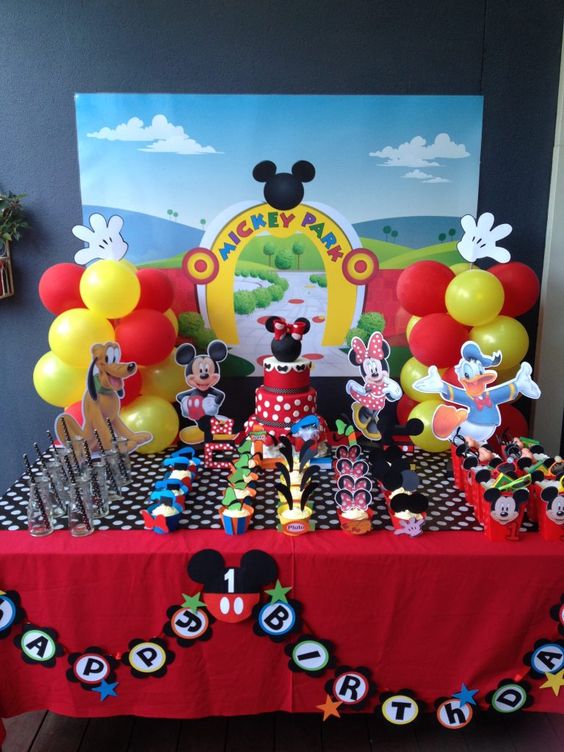 Image Source: Pinterest
Mickey Mouse is another popular choice among kids no matter what their gender is. The Mickey Mouse brand and the rest of his gang also have a dozen of aesthetics to choose from starting from their black and white appearance to their now 3D look. There is no shortage of ideas and resources for your printable birthday decoration needs.
printable 1st birthday decorations
cocomelon printable cake topper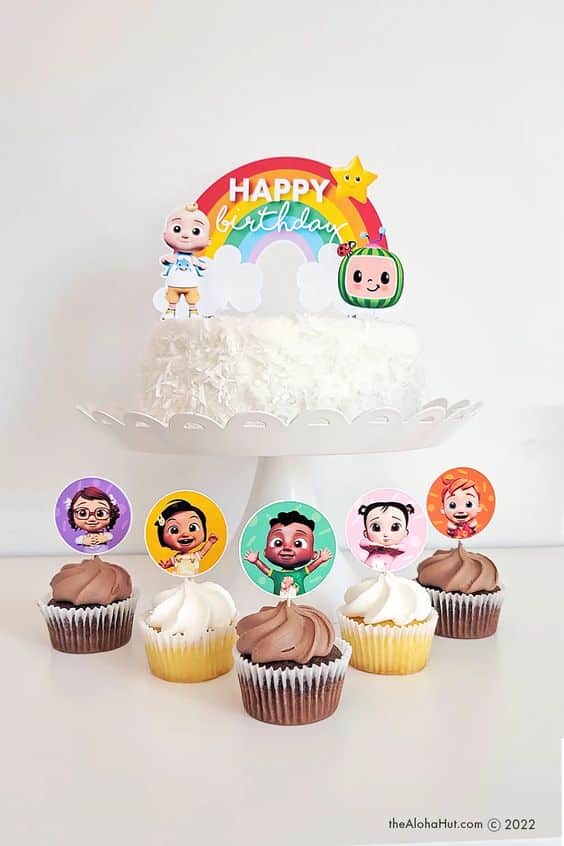 Image Source: Pinterest
1-year old absolutely love Cocomelon. Your 1-year old will definitely love having a Cocomelon themed birthday party complete with DIY decorations and a cake with a cocomelon printable cake topper. Cupcakes and cake pops will also look better with cocomelon printable labels and toppers to complete the look. The cute characters and colorful backgrounds are a hit to children.
wild one cupcake toppers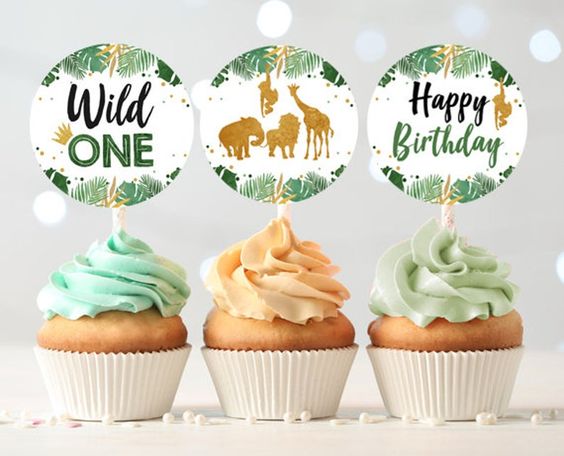 Image Source: Pinterest
The first year really is a wild one. Celebrate your baby's milestone with a wild birthday celebration topped with a Wild One cupcake topper and other party favors in the same theme. Birthday banners, party bags, and balloons can be custom-printed to match the animal/jungle theme and your little one may even dress like his favorite animal or explorer.
printable 21st birthday decorations
heineken cake topper printable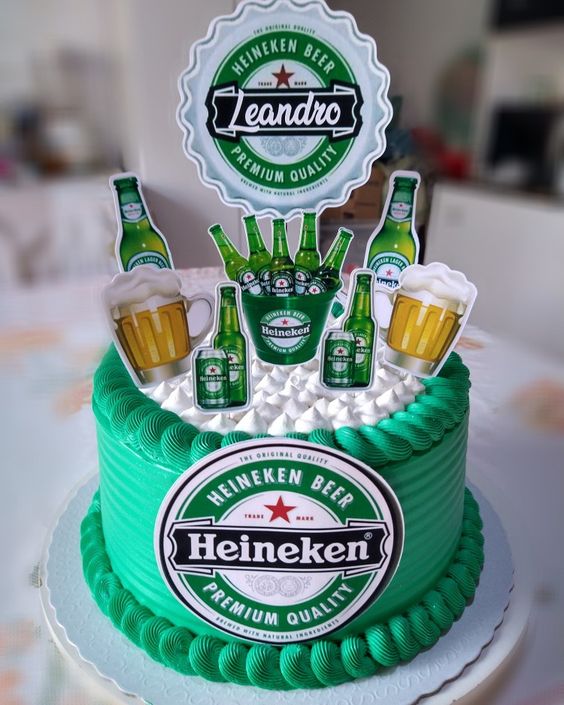 Image Source: Pinterest
There is no better way to celebrate the legal age of drinking than to have an alcohol-themed party complete with a heineken themed cake. The cake may or not be infused with liqueur but there needs to be an ample amount of booze and drinking food. Just make sure that guests don't drink and drive.
blackpink cupcake topper printable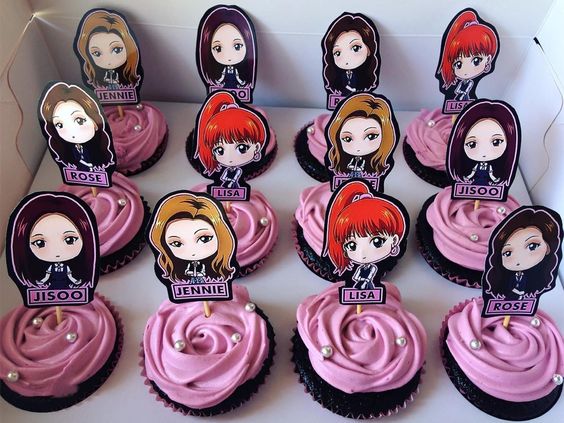 Image Source: Pinterest
Blackpink in your area…or rather, mini versions of them in the form of cupcake toppers. Blackpink is a Korean Pop group that is popular among young girls to even young professionals. Their awesome singing and dancing talent makes it easy for many to love and idolize them and having them as a birthday theme is an easy win.
printable 30th birthday decorations
bts topper printable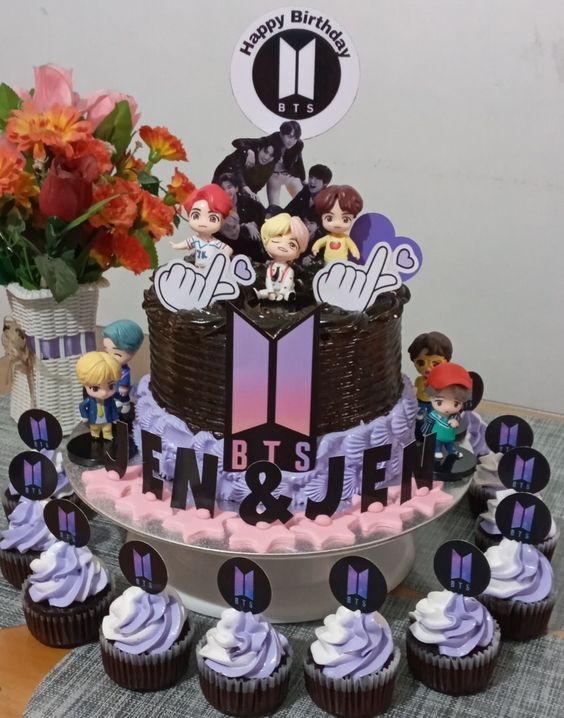 Image Source: Pinterest
BTS fans or the ARMY fandom will absolutely love a BTS-themed party no matter what age they are. Make sure to highlight your celebrant's bias or their favorite member to make their day extra special. You may even put their own photos for added personalization. Tinytan and BT21 characte may also join the decorations and toppers.
FRIENDS-themed birthday printable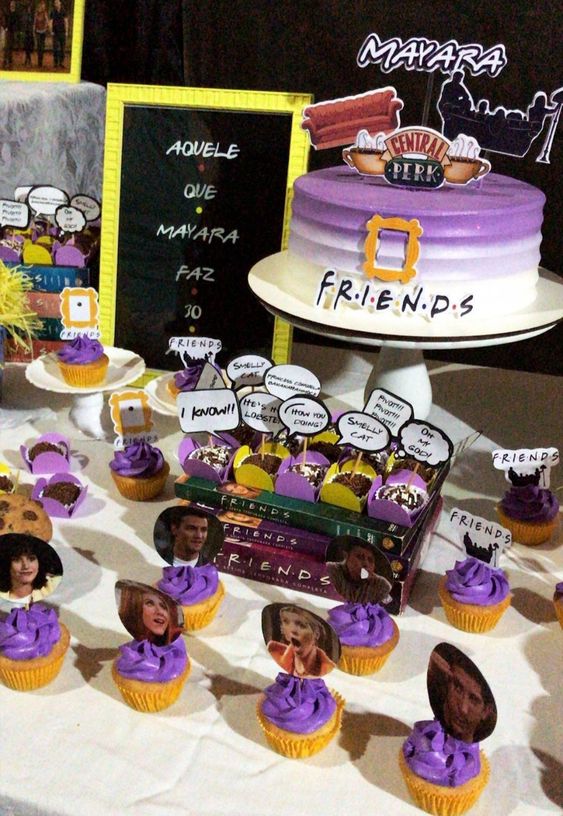 Image Source: Pinterest
Most 30-year olds can definitely relate to the popular 90's sitcom, Friends, that is why a themed birthday based on it will surely be a hit. There are a lot of printable resources available online, from iconic lines to iconic scenes and inside jokes. The options are endless and the inside jokes are plenty.
printable 40th birthday decorations
alcohol themed birthday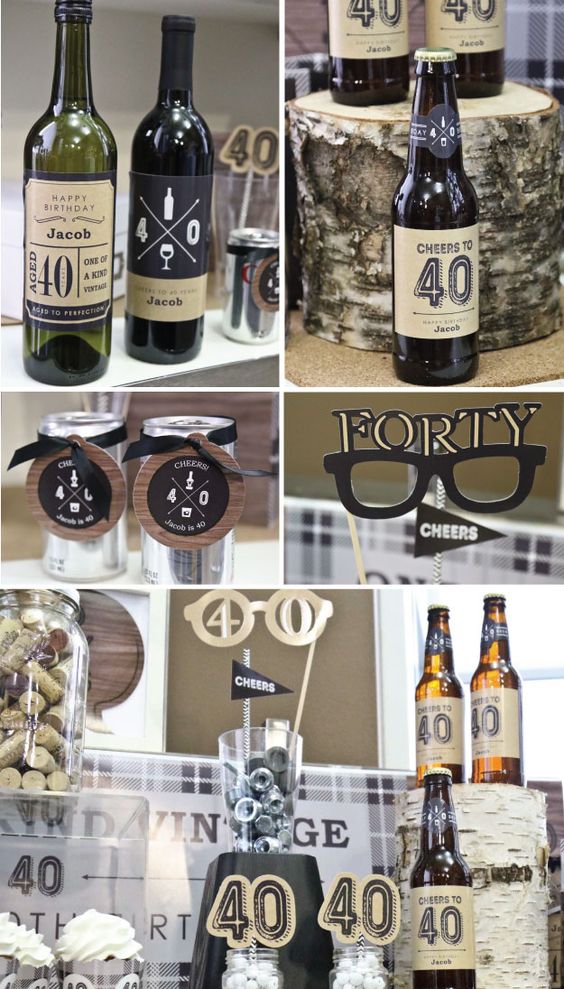 Image Source: Pinterest
Alcohol-themed 40th birthday parties are popular since it knows no gender or interest. There are lots of available neutral-colored printables available that can be customized to include the celebrant's name and other details. Toppers, banners or tarps, tags, and even stickers can be printed to create a cohesive look to the entire party.
Vegas themed birthday decorations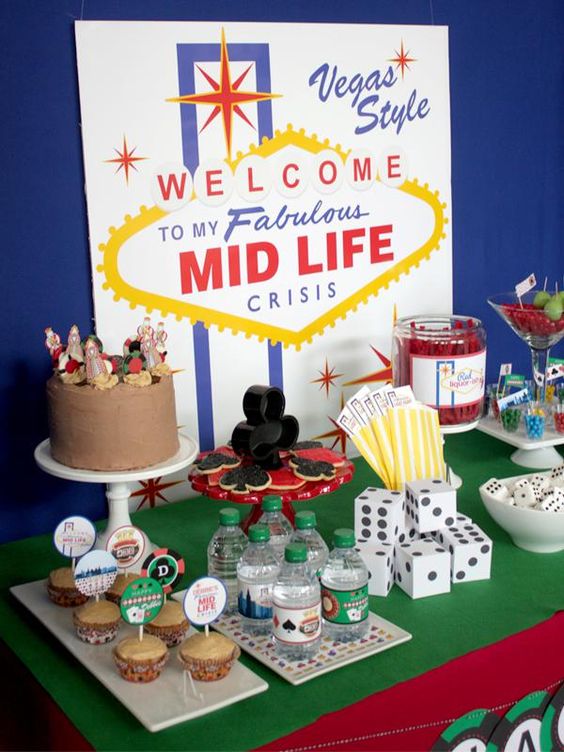 Image Source: Pinterest
Turning 40 may be the perfect occasion to party in Vegas or to bring Vegas to your party. Besides the neon lights, Vegas is known for its countless casinos that will surely be the star of you party. Cupcake toppers, labels, bottle stickers, and even printable vegas-themed games are available to provide the perfect aesthetic for your party.
free printable 50th birthday decorations
80's themed birthday party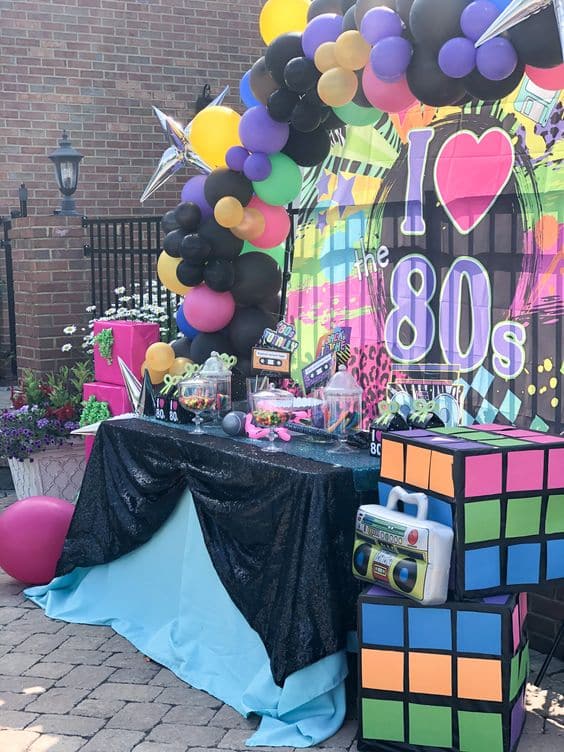 Image Source: Pinterest
Throwing an 80's themed birthday party for a 50-year old is a perfect way for them to relive their youth. There are many available 80's-related printables like backdrops, table centerpieces, giftboxes, cake and cupcake toppers, and many more. The interesting colors and designs of the 80's make loud statements and lively decorations for any party.
printable 60th birthday decorations
Golden girls themed party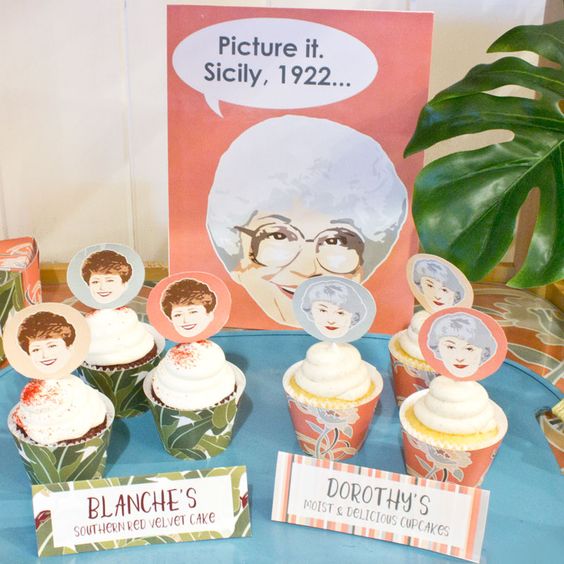 Image Source: Pinterest
The Golden Girls is an iconic show when it ran in 1985 to 1992. There were a lot of fans of the show because of the colorful personalities of the 4 women with different personalities in their golden years. What better way to celebrate someones golden years than to throw a themed party in the Golden Girls' fashion.
birthday decorations checklist
Outdoor party supplies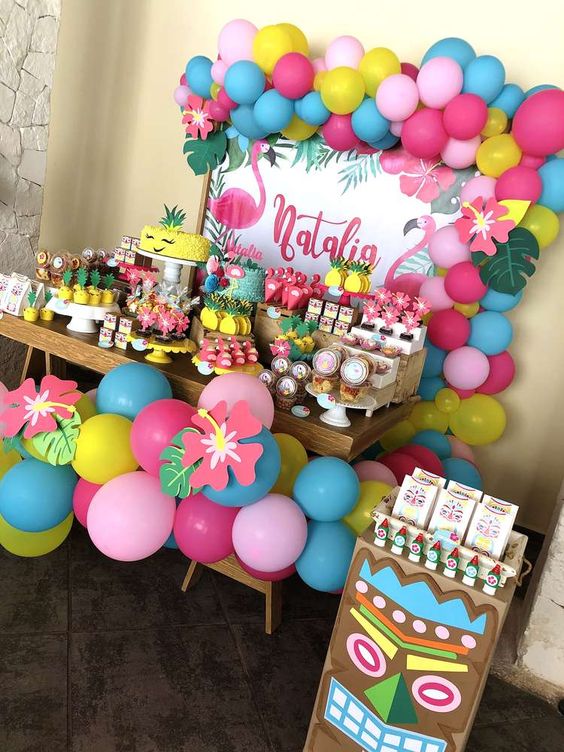 Image Source: Pinterest
Outdoor parties suit the summer and spring season so that the weather is just warm enough for guests to enjoy the outdoors without freezing. Balloons, toppers, giftboxes, cupcake liners, and other printable may be included in the supplies needed for an awesome party. Don't forget the food and cool refreshments.
House party shopping list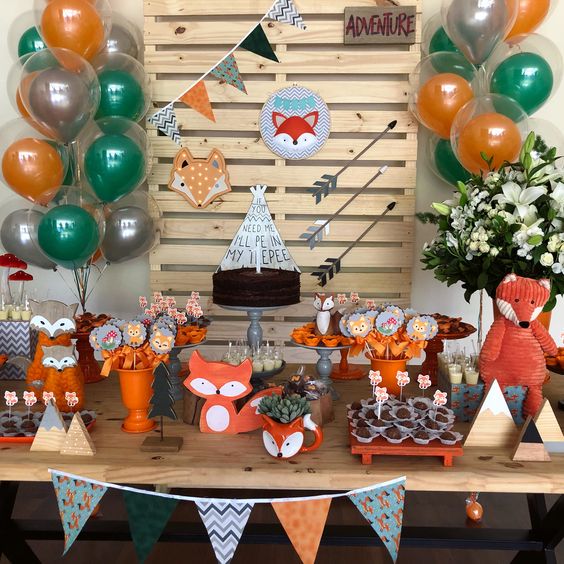 Image Source: Pinterest
It is best to keep your indoor parties interesting so that guests, especially kids, won't try to go outside. Keep the display table well-decorated and fully-packed with cute printable toppers and labels for food items. You may also print cute goodie bags, banners, and an eye-catching cake topper to match.
how to do birthday decorations
Some may ask, how do you make homemade decorations for birthdays? It is very simple. Simply search for your theme plus the name printable and a ton of resources will pop up that will match your theme and your style peg. Print graphics in good quality paper and you're set.
where to buy birthday decorations
If the printables aren't enough or if you just want to jazz it up more, visit your local craft supply store or even a general goods store and look for their best yet affordable options. There are a lot of basic decorations that may suit any theme you like.