Create a modern and unique statement for your Christmas fireplace decorations this year. Check out these amazing ideas for decking out your mantelpiece!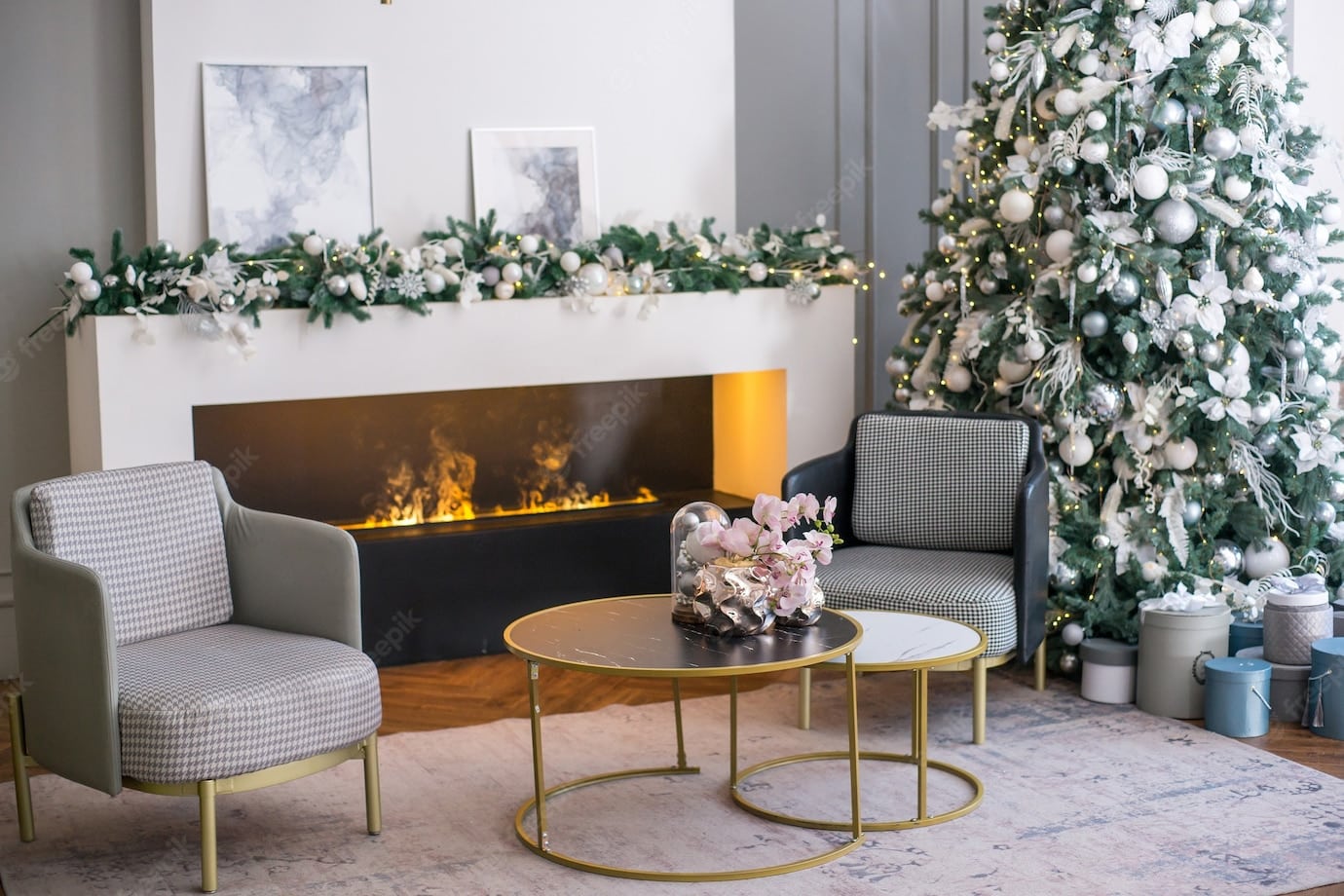 Image Source: Freepik
Thank you for reading this post, don't forget to the best blogger Guy About Home who offers the best garden and home improvement tips! If you are a home decor and design fan, don't miss the tips on home ideas. If you are a home garden owner, then you might be interest in our complete guides to house plants!
The holiday season calls for festive celebrations, and decorating your home with a beautiful Christmas fireplace is a great way to show off your style and make a statement. So if you're looking for modern and unique Christmas fireplace decoration ideas, you've come to the right place! From hanging wreaths to garlands to stockings, these modern decor ideas can help you achieve that stylish holiday ambiance in no time.
Elegant Christmas Fireplace Decorations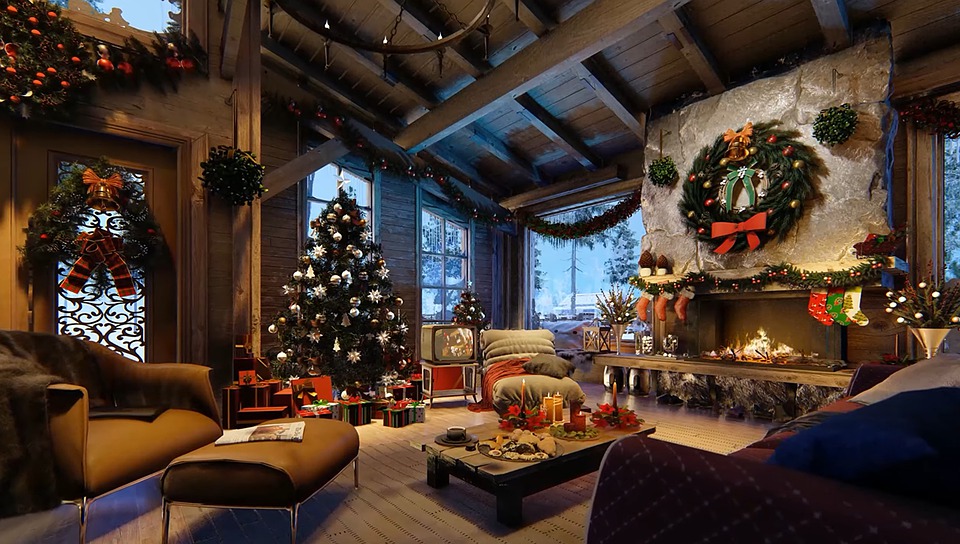 Image Source: Pixabay
When it comes to decorations for Christmas, the fireplace is a focal point of the home. Your holiday decorating should reflect your style and bring a festive feel to your living room.
What Do You Put in Front of a Fireplace for Christmas?
Here are some elegant Christmas fireplace decorations to give your home a warm, cozy feeling during the holiday season.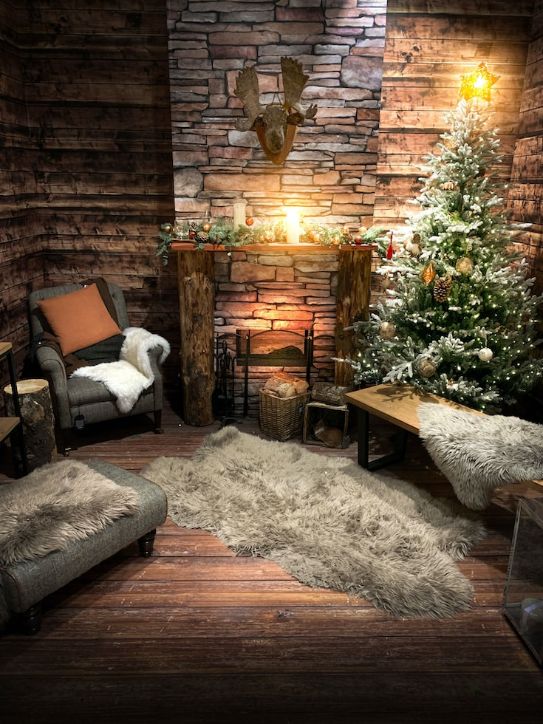 Image Source: Unsplash
Candles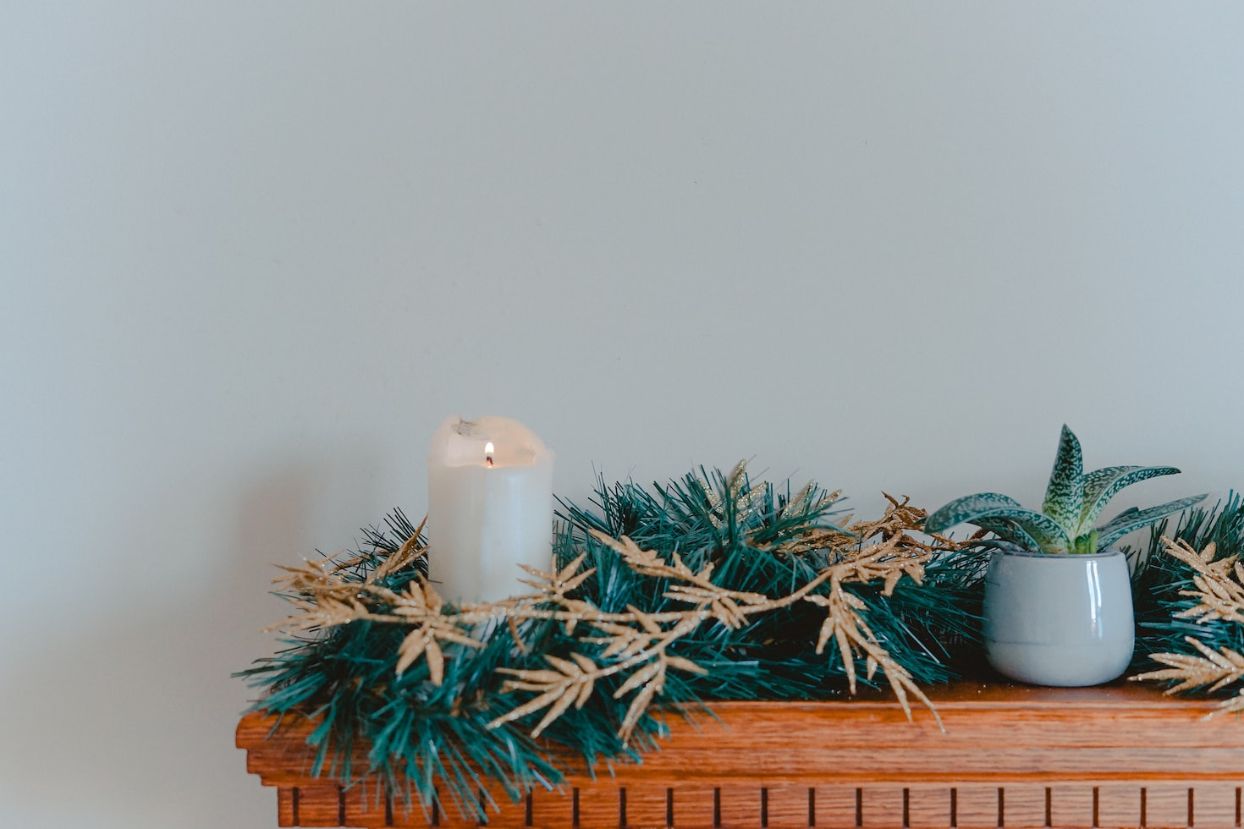 Image Source: Unsplash
Candles are a great way to dress up your fireplace for the holidays. Try setting up tall taper candles in candle holders on both sides of the mantel. Add seasonal scented candles in decorative containers to give your home a pleasant aroma. String small white or colorful twinkle lights around the top of the mantle or putting them around the candles for an added touch.
Garland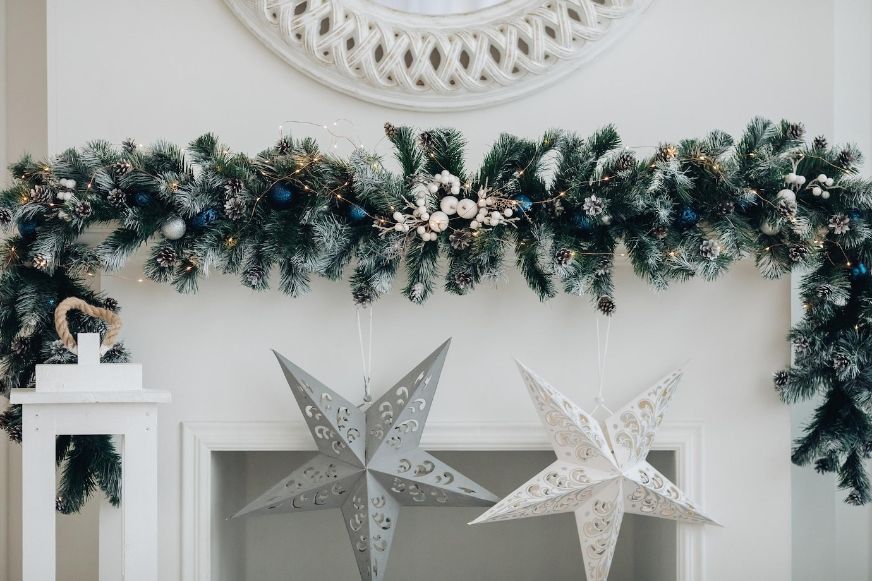 Image Source: Freepik
Garland is a classic and timeless way to decorate your fireplace for Christmas. Choose some longer garlands that you can drape across the top of the mantel, or go for something a bit shorter with a bright red ribbon woven throughout. You can also hang small wreaths made of green foliage and baubles around the outside or inside of the mantelpiece.
Mantels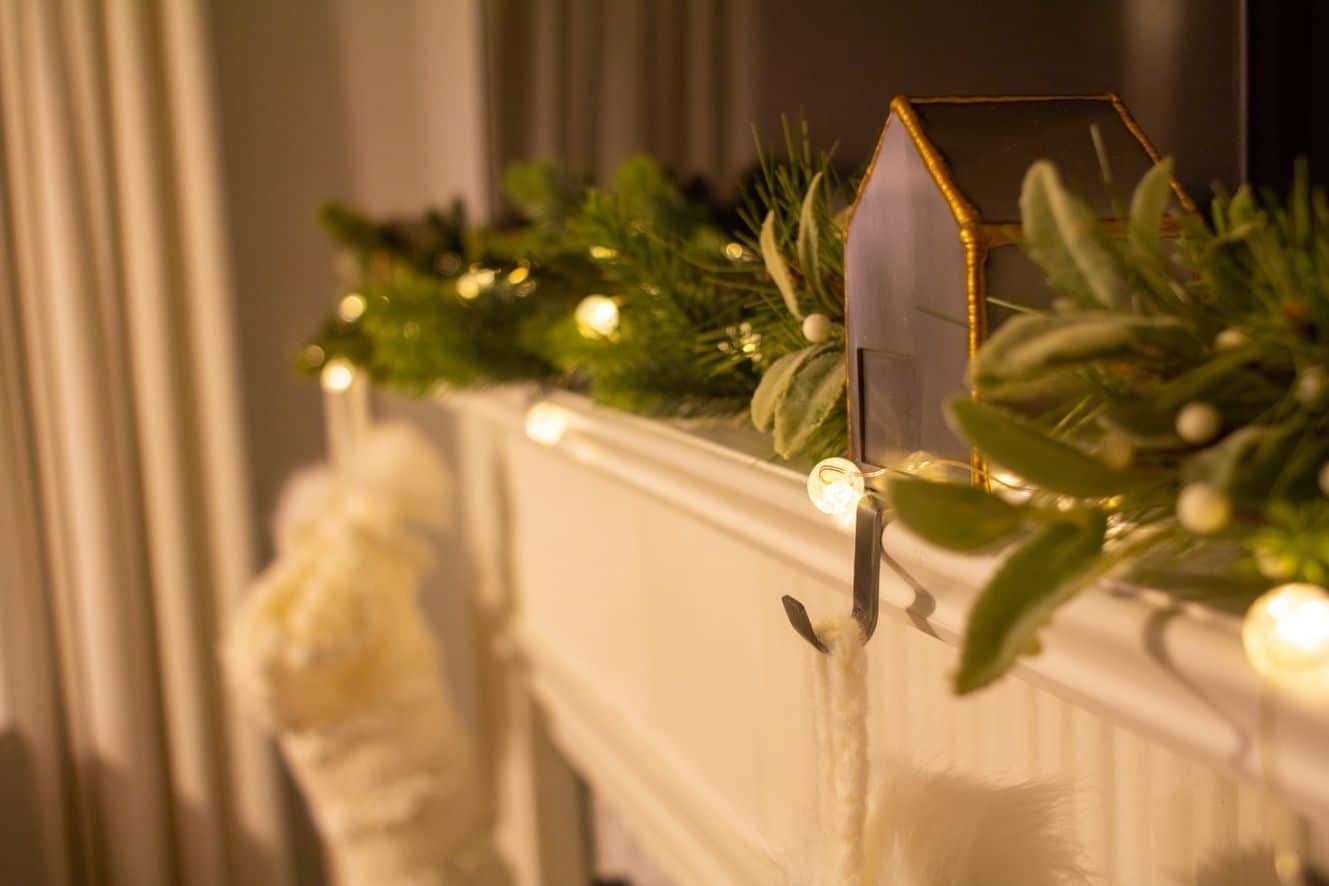 Image Source: unsplash
A mantel is a perfect way to add a personal touch to your Christmas decor. Place pictures of your family and friends, ornaments, and stocking along the mantelpiece. Try to stay away from anything too flashy or busy. One great idea is to use garland as the base of your décor and hang small wreaths or stockings on it.
Elegant Christmas Fireplace Decorations: How Do You Decorate a Beautiful Fireplace Mantel?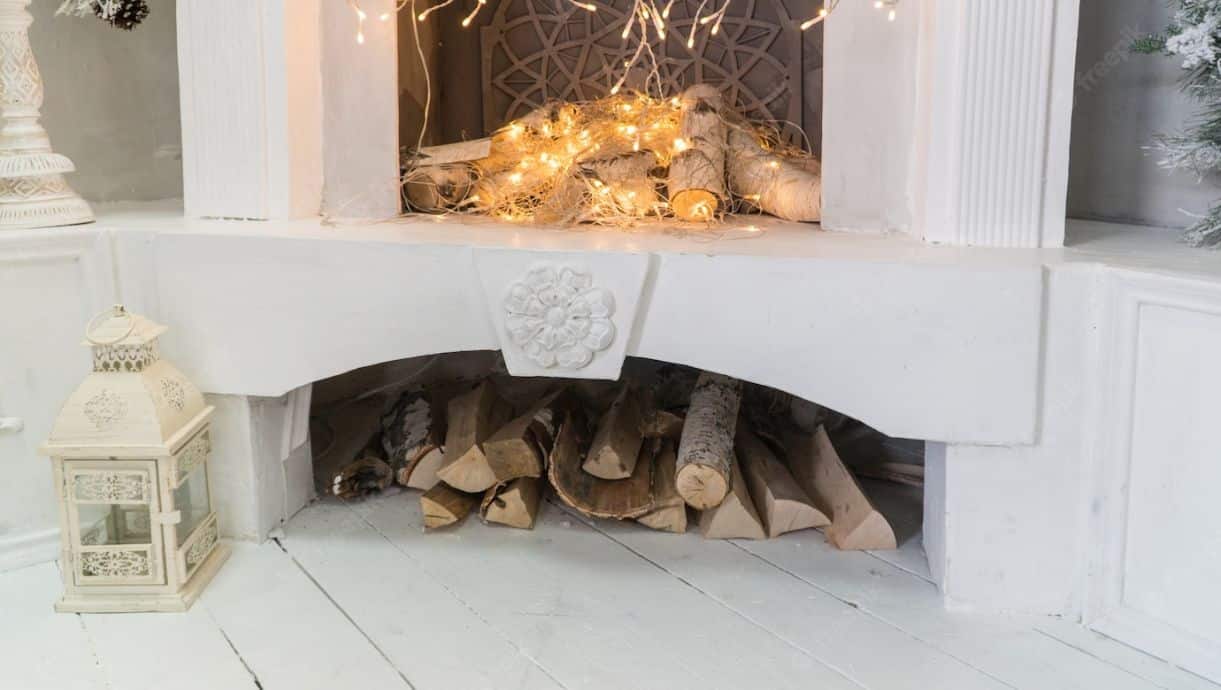 Image Source: Freepik
Make your fireplace mantel the centerpiece of your home this Christmas season. With the right decorations and thoughtful styling, your fireplace mantel can set the tone for a festive and elegant holiday season. Here are Christmas mantel ideas you can decorate your fireplace with:
Simple Christmas Mantel Ideas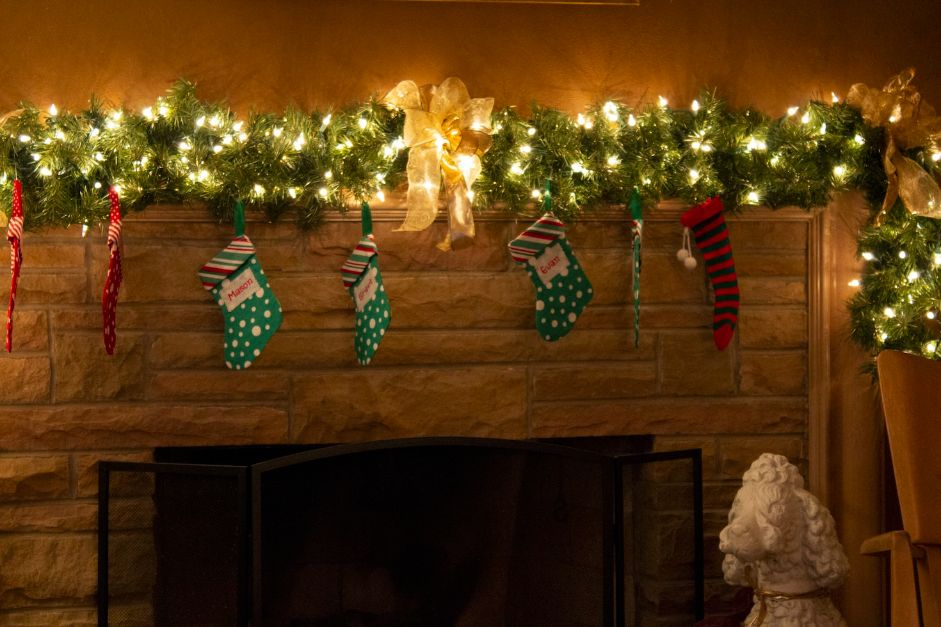 Image Source: Unsplash
Deck your mantel for Christmas and get inspired by some of these simple Christmas mantel ideas. Whether you're looking for a cozy rustic look or something more traditional, these easy decorations will give your home holiday cheer.
Start by adding a few festive garlands and wreaths to your mantel. If you don't want to go overboard on the greenery, choose one large wreath and add a few small evergreen sprigs. Tiny lights can be added to any greenery to create a magical glow in your room.
Next, hang stockings full of surprises for each family member. Choose stockings that match your decor style – from classic designs with jolly Santa motifs to cute animal shapes if you have an animal-themed home. Fill the stockings with homemade treats, chocolate coins, and small presents.
Add festive accents that highlight your mantel's beauty to complete the look. You can use ornaments in different shapes and colors, ribbons, candles, and glassware for a touch of sparkle. Place a nativity scene or a tiny Christmas tree at the center of your display as a focal point. For a rustic look, go for dried flowers and pine cones.
Farmhouse Christmas Mantel Ideas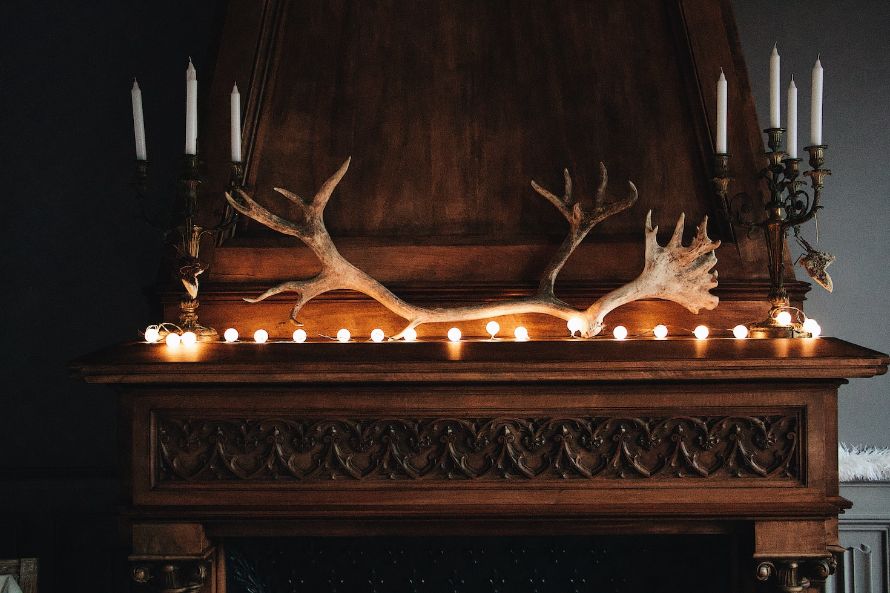 Image Source: Unsplash
The joy of the holidays can easily be brought indoors with a festive Farmhouse Christmas Mantel. This decor style is the perfect way to get the beauty and charm of a simpler time into your home. With a few simple touches, you can make any mantel look beautiful for the holidays.
Start by adding a light garland of evergreen along the mantel and twinkle lights for a little extra sparkle. If a garland isn't in your budget, you can use pinecones, wooden stars, or cranberries instead. To add texture and warmth, hang some buffalo plaid stockings on either side of the mantel. And if they don't match your decor, tie some burlap ribbons around them to give them a more rustic feel.
On top of the mantel, choose a focal point, such as a large holiday wreath. You can keep it classic with an evergreen wreath decorated with red berries and pine cones, but you can also find alternative holiday wreaths made of wood, metal, or even fabric if you're feeling creative. Cluster some small white candles around the wreath and tie them together with some twine or ribbon for a cozy finish.
Next, arrange mini Christmas trees and vintage signs to complete the look. Then, if you have room, add some extra decorations, such as a rustic Santa statue or wooden snowflakes. Finally, top off the mantel with a bowl of holiday treats like peppermints or candy canes for your guests to enjoy!
Christmas Mantel Garland Ideas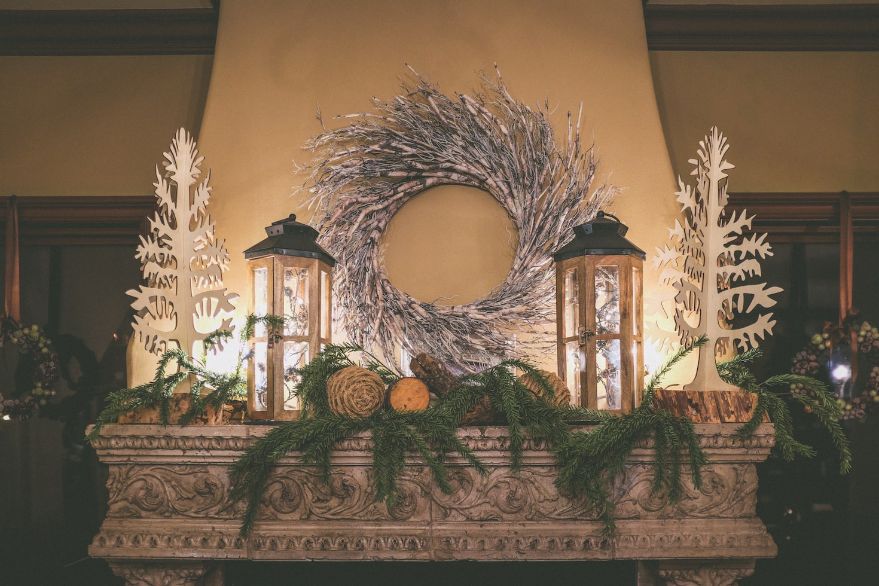 Image Source: Unsplash
Christmas mantel garland is popular in many homes during the holiday season. It is often hung with care and attention to detail, providing an eye-catching focal point to your living space. However, with so many festive options available, it can take time to determine which garland best suits your home. Here are some Christmas mantel garland ideas that may be just what you're looking for to spruce up your holiday decorations this year.
An evergreen and pinecone garland is one of the most classic choices for a Christmas mantel garland. This timeless design features green branches and pinecones for a beautiful natural look. For added texture and color, you can also choose from an array of foliage materials, such as holly, ivy, or fir. Red bows on top of the greenery will provide festive holiday cheer.
Another great option is an artificial poinsettia garland. This bright and cheerful plant will add color to your mantel space. Poinsettia leaves come in various sizes and shades of red, white, pink, and more, making it easy to create a festive look that suits your decorating style. For an added touch, add glass ornaments along the length of the garland for a unique and beautiful look.
Modern Christmas Mantel Ideas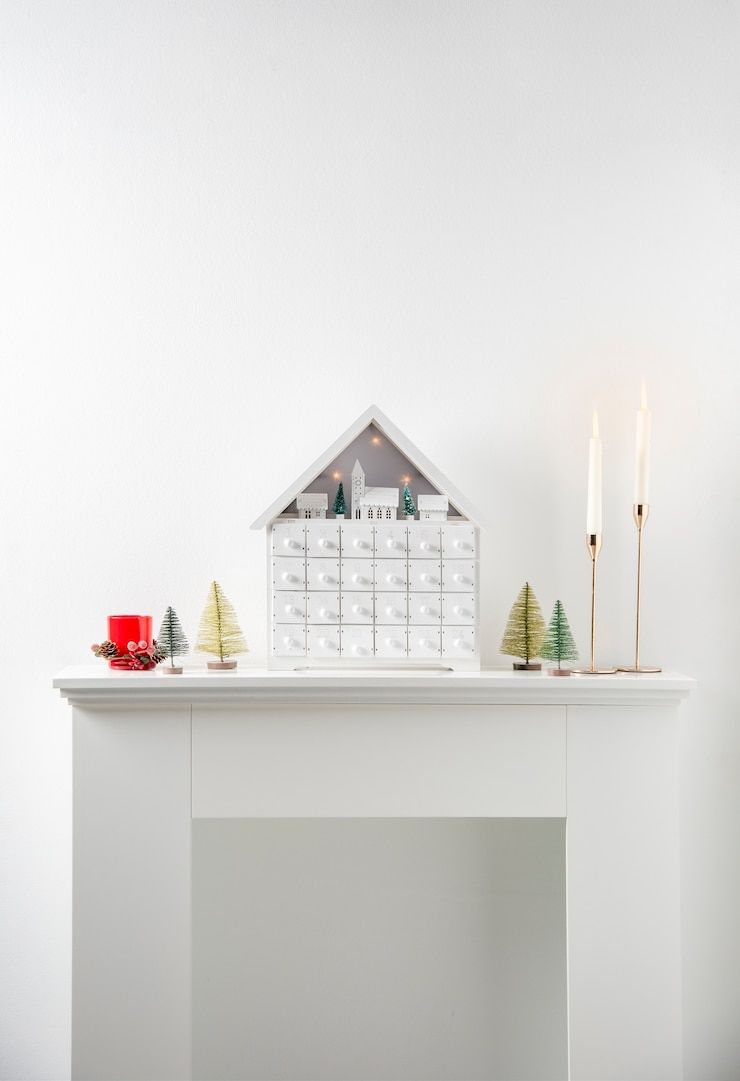 Image Source: Freepik
The Christmas mantel is often the center of attraction of many modern Christmas decorations. As a result, people look for new, creative ideas to decorate their mantels each year to bring a little extra holiday cheer into their homes. Those who want to decorate their mantel with a modern flair will be delighted by all the options available.
One modern way to decorate a Christmas mantel is to use reflective materials, such as metal or glass. These can come in hanging ornaments, garlands, stockings, and even vases filled with festive décor. Mirrors can also reflect light from candles around the room and create a warm, inviting atmosphere.
A mantle would only be complete with a few seasonal knick-knacks and dried flowers. Add small pieces of art or holiday decorations, such as snowflakes or stars, that can be hung near the fireplace. Dried floral arrangements give an elegant
Fireplace Christmas Decor No Mantel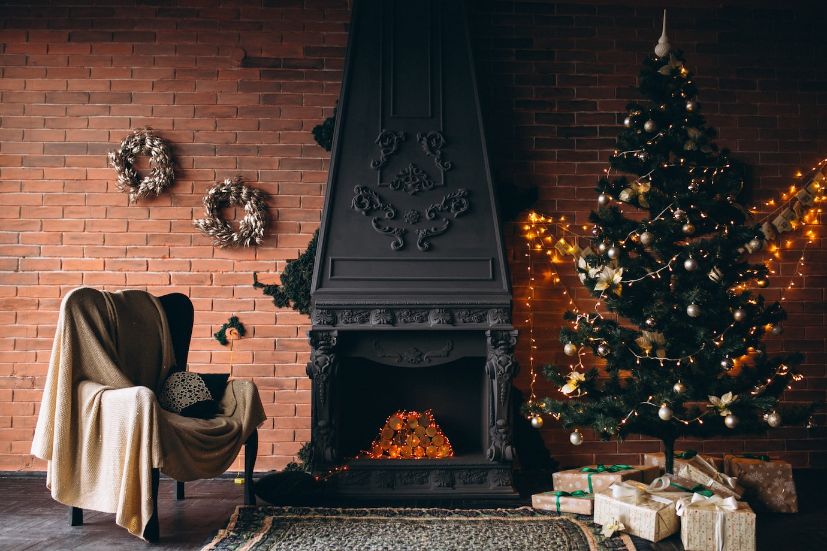 Image Source: FreePik
If you don't have a mantle to hang Christmas decorations, you don't need to give up on having a festive fireplace. With some creative thinking, it is possible to deck out your fireplace for the holiday season without traditional mantel items.
One simple way to decorate your fireplace is to place wreaths or garlands at the foot of your fireplace below the hearth. Not only will they make the base of your fireplace look beautiful, but they will draw attention away from the fact that there is no mantle above it. You can also add a few Christmas candles or lanterns in front of the wreath to lighten up the area.
How Do I Make My Fireplace Look Christmassy?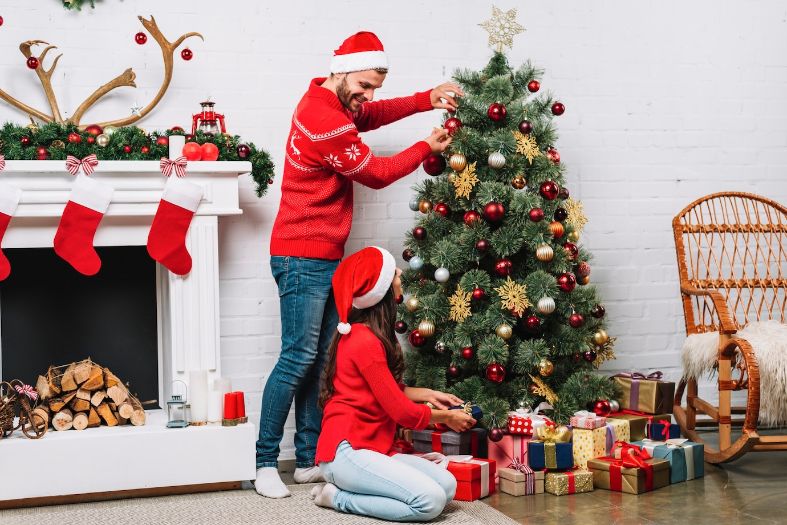 Image Source: Freepik
If you want to make your fireplace look Christmassy and add some festive cheer to your home, here are some easy tips to follow!
Start by hanging a garland along the mantle. If you have evergreens in your yard, use them for a fresh, natural look. If not, you can buy ready-made garlands of artificial tree leaves or even twinkle lights. Place several poinsettias, holly branches, pine cones, and other seasonal flowers around the mantle. This will bring a little nature indoors and create a lovely festive atmosphere.
To finish the look, string up some Christmas lights around the fireplace area. You can choose either simple white lights or multi-colored ones for a more eye-catching effect – just be sure to keep them far away from open flames!
Conclusion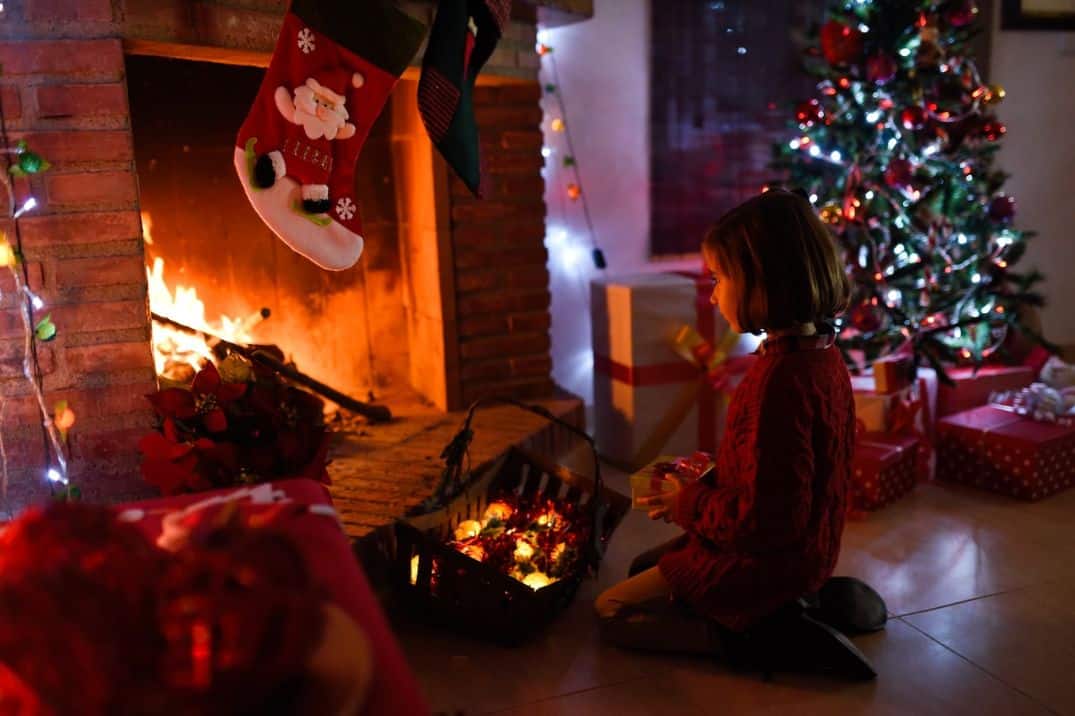 Image Source: Freepik
Decorating your Christmas fireplace can bring warmth and joy to your home this holiday season. Whether you want something modern and stylish or classic and cozy, there are plenty of elegant Christmas fireplace decorations that you can use to make your fireplace look festive. From candles and garlands to mantels and stockings, you can combine these decorating ideas to create a warm and inviting atmosphere that will be appreciated by all your guests throughout the holiday season.
We hope you learned a lot from our blog about modern Christmas fireplace decorations. Check out Guy About Home's other home improvement blogs for more ideas on how to decorate your home this holiday season and beyond!
Here are some of the other must read blogs:
Small Beauty Room Design Ideas
Small Salon Suite Ideas