If you want to make your living space look better without spending a lot of money, here are some ideas to transform your man cave into the ultimate space.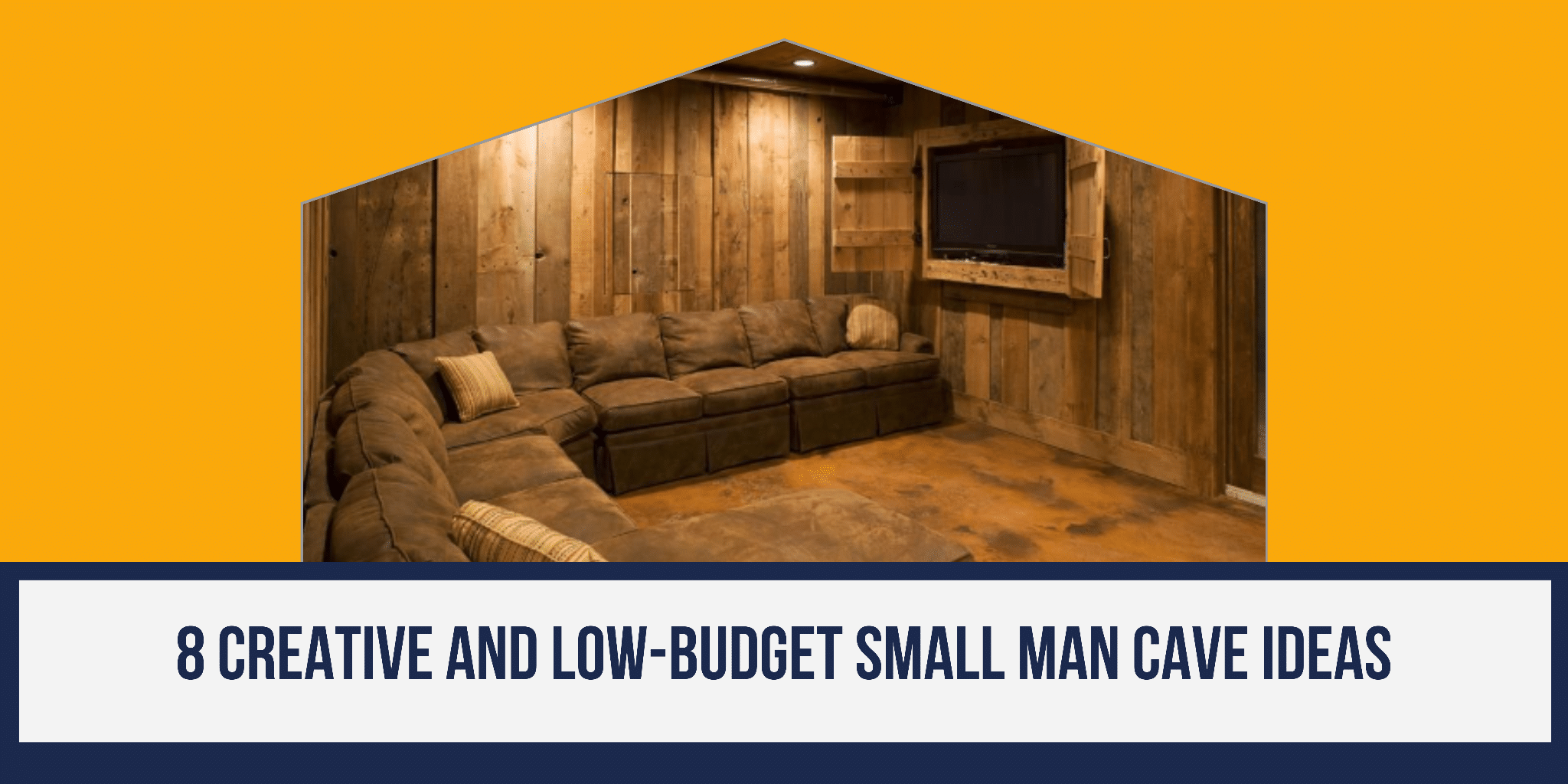 Image: Canva
Man cave owners know how difficult it is to develop new ideas for enhancing and beautifying the space to make it stand out. However, there are plenty of low-budget or no-budget ideas that will help you out while also saving you money at the same time. If you are looking for some easy but great low-budget small-man cave ideas, this is an article you should read!
Table of Contents
Simple Furniture and a Big Screen

Wooden Floor and Soft Couches

Bar/Workshop Combo on a Budget

A DIY Corner Bar

Screening Room with LED Lights

Man Cave with Memorabilia

Comfortable Man Cave

In the Wooden Crate Bar
1. Simple Furniture and a Big Screen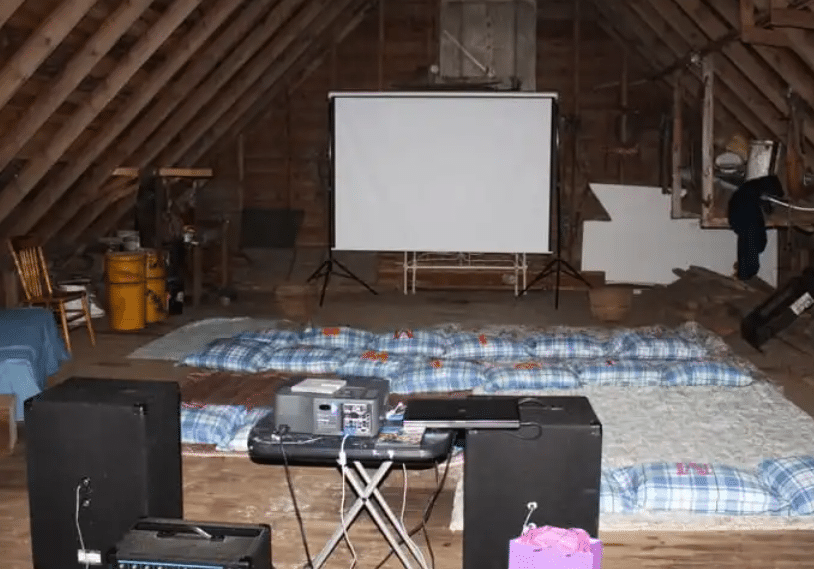 Image: ynesdesigns
The homeowners devoted their money to a projector and a large screen to get the best picture possible. Anyone who enjoys sports, movies, or organizing get-togethers with their male pals would adore this man cave design idea. Thanks to the furniture's simplistic design, the man cave has a homely, almost college house air. Put your money where it counts, like in this man's cave.
Check out these budget-friendly furniture ideas for your man cave:
Create low walls and display areas so your big screen can be shown off.

Toss in an accessible seat that's perfect for lounging.

Pair the screen with a good audio setup.

Decorate with natural colors for a sophisticated look.
2. Wooden Floor and Soft Couches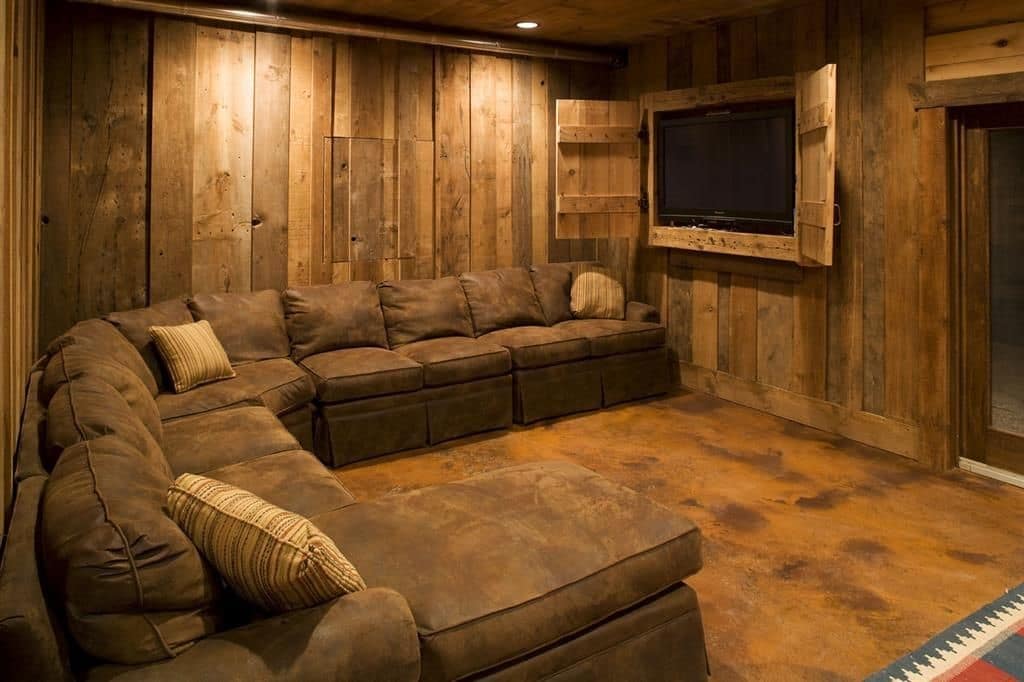 Image: Pinterest
This man cave, depending on how you look at it, either seems too essential or too expensive to be a budget project. All that's left are the reclaimed wood walls and the plush couches. As a result of its creative use of recycled materials, it cut our list. We don't care for the TV's size, but this is a fantastic, clutter-free man cave nonetheless!
Let us help you start your new year off with style with these tips:
Choose an accent color.

Add

unique wall art

.

Include accent furniture pieces.

Add some soft wooden color couches.

Add a big-screen TV.

Use a dark rug.
3. Bar/Workshop Combo on a Budget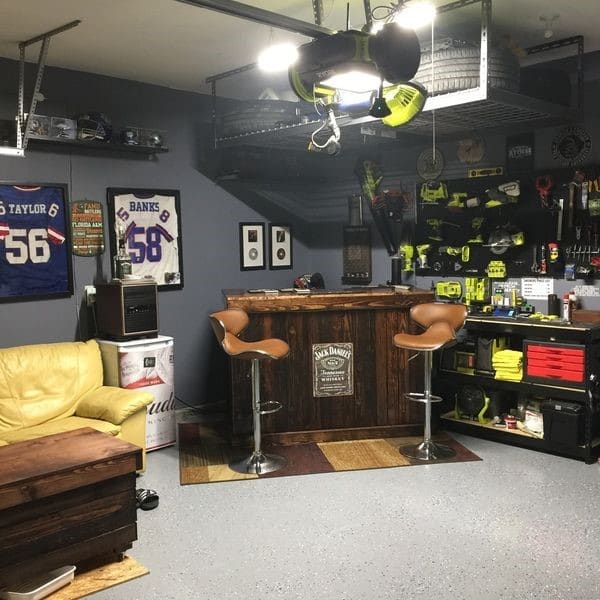 Image: Pinterest
In this case, too much money is spent on a single feature of the man cave rather than the sum of its parts. You'll have a great workshop space that quickly transitions into a wood bar counter. With the addition of the two leather barstools, the room has an air of sophistication. Sports memorabilia and a couch with a wooden coffee table complete the man cave's left side. This is a fantastic low-cost man cave!
Check out this bar/workshop combo on budget tips:
Add a bar-top table.

Side compartments for the shop tools.

Buy reclaimed furniture second-hand.

Add a couch and coffee table for comfort.

DIY those walls using scrap wood and your favorite pictures.
4. A DIY Corner Bar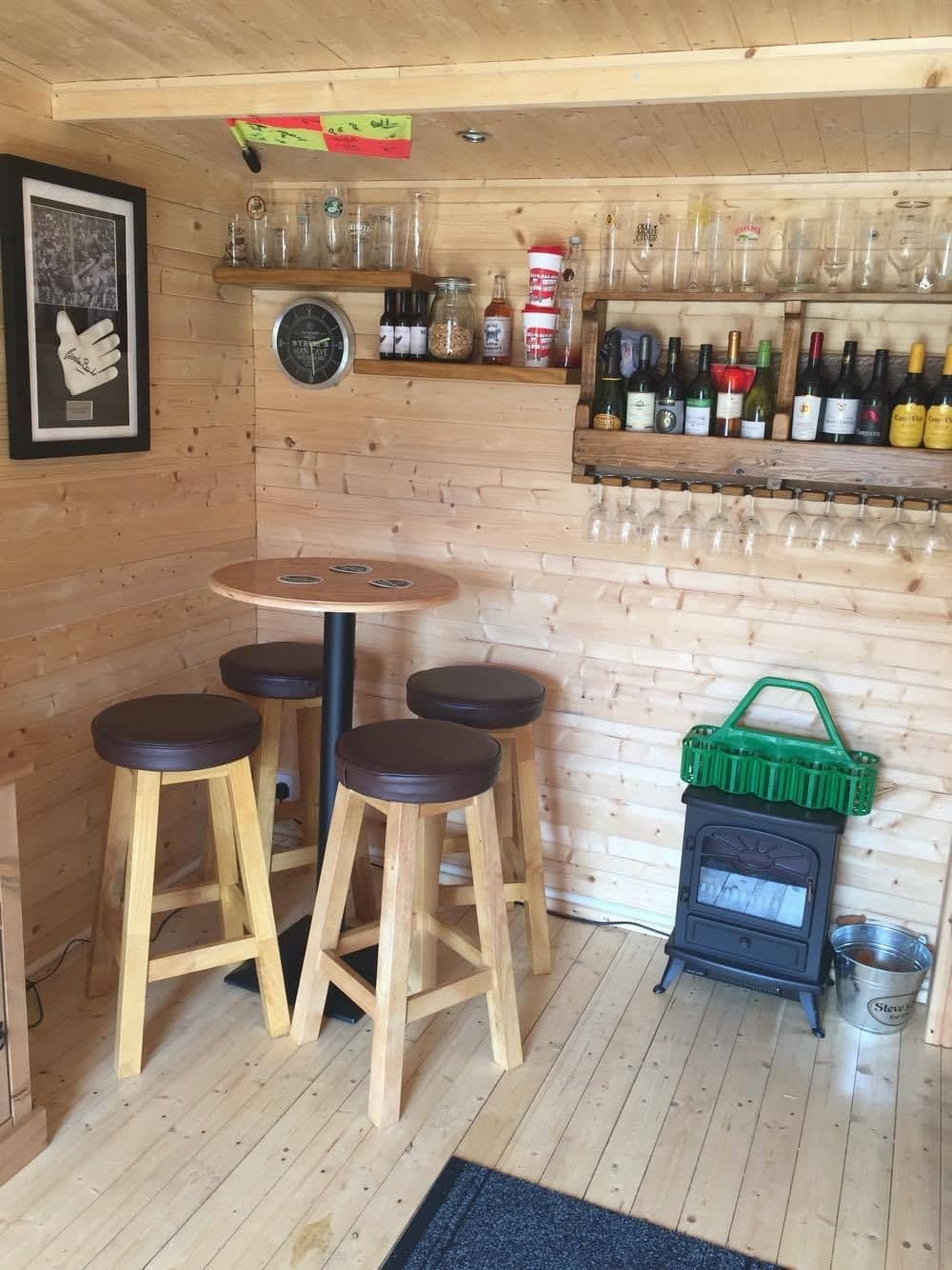 Image: Pinterest
Were you born with the ability to work with wood or a "do it yourself" mentality? Instead of paying someone to create your bar or purchasing one pre-built, consider making your own. Because of the savings on labor and shipping, you'll get a finished product that looks like it was put together with care rather than slapped together. The wood's natural color appeals to me because it signals that were looking at a do-it-yourself product that has been expertly constructed.
Use these DIY corner bar man cave ideas:
Make it personalized to your taste.

Add a mini fridge.

A cool box for your drinks.

Add cabinets to store bottles properly and safely.

Make a personalized cocktail board.
5. Screening Room with LED Lights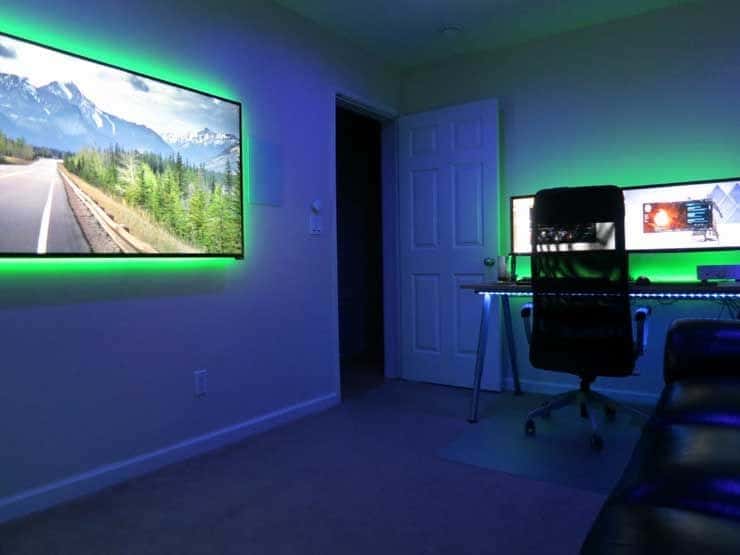 Image: Pinterest
LED backlights for televisions and computer monitors may be one of the cheapest methods to transform a room's atmosphere. They invested a minimal amount of money in this media-focused man cave. They got a significant visual boost to each movie night, gaming session, or sports viewing party they have! LED backlights should be a no-brainer if you're looking to make a significant improvement for a small expenditure.
Use these screening rooms LED lights ideas:
Understand entertaining styles.

Look for a cheap 60hz flat screen.

Decorate to make it feel like a movie theatre.

Add roman shades or curtains to make it dark.

Look for LEDs that are cheap and safe in your room.

Add as many personal touches as you can.
6. Man Cave With Memorabilia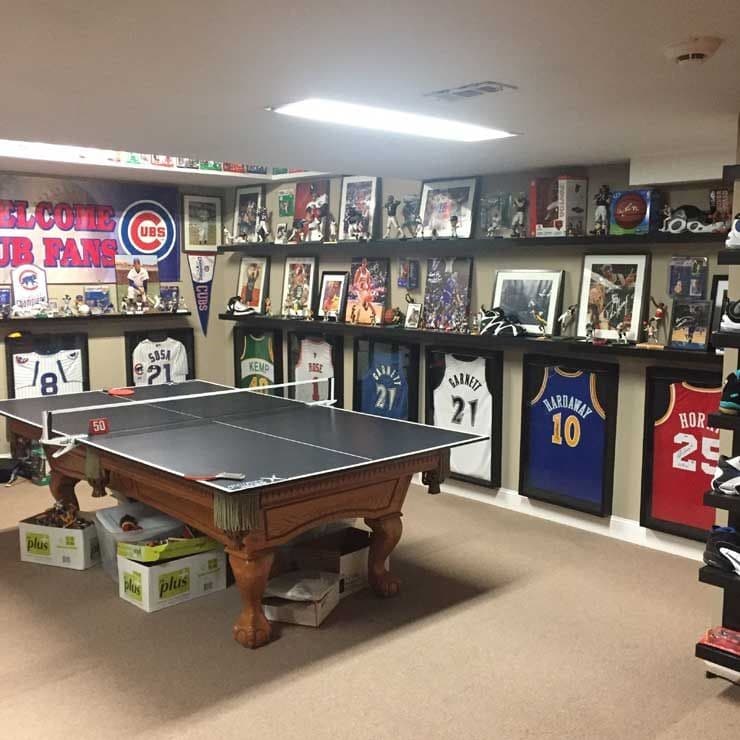 Image: Pinterest
Decorate, not renovate, is a terrific bit of advice regarding the overall appearance of your budget man cave. It's much less expensive to decorate than completely redo a home. The primary feature of this man cave is a great ping pong table surrounded by sports memorabilia. If you're looking for something beautiful and functional, this is the place for you! As long as it's signed by some of the biggest names in sports, that is.
Make a man cave with memorabilia with these tips:
Find unique decorations and memorabilia.

Make sure your fixtures and fittings are of good quality.

Hang on the wall televisions or screens.

Get some comfy chairs.

Don't overdo the memorabilia.

Install lighting to draw the eye.

Get comfortable seating in a variety of styles.
7. Comfortable Man Cave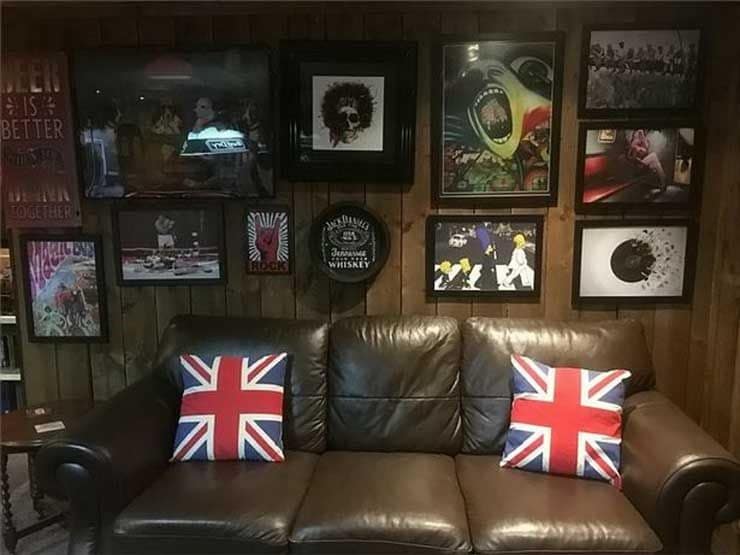 Image: Pinterest
There aren't any gimmicks, simply a quiet place to unwind at the end of a long day. You'll be okay if you can get away from the hustle and bustle of the outside world for a bit. Relaxing in a calm, private, and cozy home like this is precisely what you need to do!
Use these tips to create an ideal comfortable man cave:
Get some comfy couches.

Add some wall art and decorations.

Pick up a low-profile TV.

Keep it casual with your furniture, carpets, and lighting.

Go with a rustic look.
8. In the Wooden Crate Bar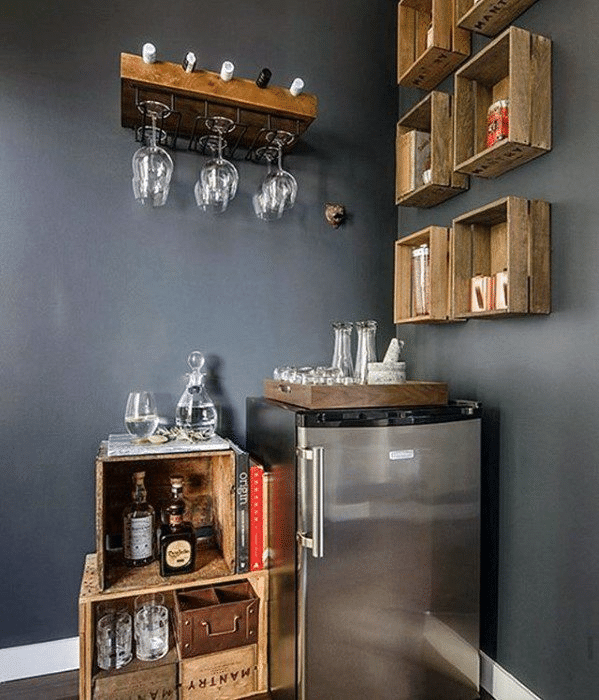 Image: Pinterest
Making the most of a modest man cave decorating budget by creating bar storage from a range of antique-style wood creations is an excellent idea. You are correct that it lacks a bar top and a large, pricey liquor cabinet. But you have to admit, it looks great! With this design, you may create an elegant man cave with a bar in your basement, where you can mix drinks as you continue to watch the game.
Check out custom wood crates for your man cave ideas:
Build a bar area with style.

Start with an alcoholic drink prepared at your home.

Use plenty of

wood crates

.

Good lighting is essential.

Invest in a decent lamp.

Make it unique and your personal touches.
Takeaway
There are many ways to create a man cave, and these are just a few of them. Most of them could be modified further to conform to even tighter budgets. It doesn't matter if you build an inside tree house or an outdoor patio; the main thing is to get started and complete the project. If nothing else, by getting your friends together and coming up with ideas for the design of your man cave, there will be plenty of laughs to go around—and hey, that's what friends are for anyway.
Visit Guy About Home for more ideas like these and many more!
The articles listed below include a wide range of helpful information, so be sure to look at those as well.