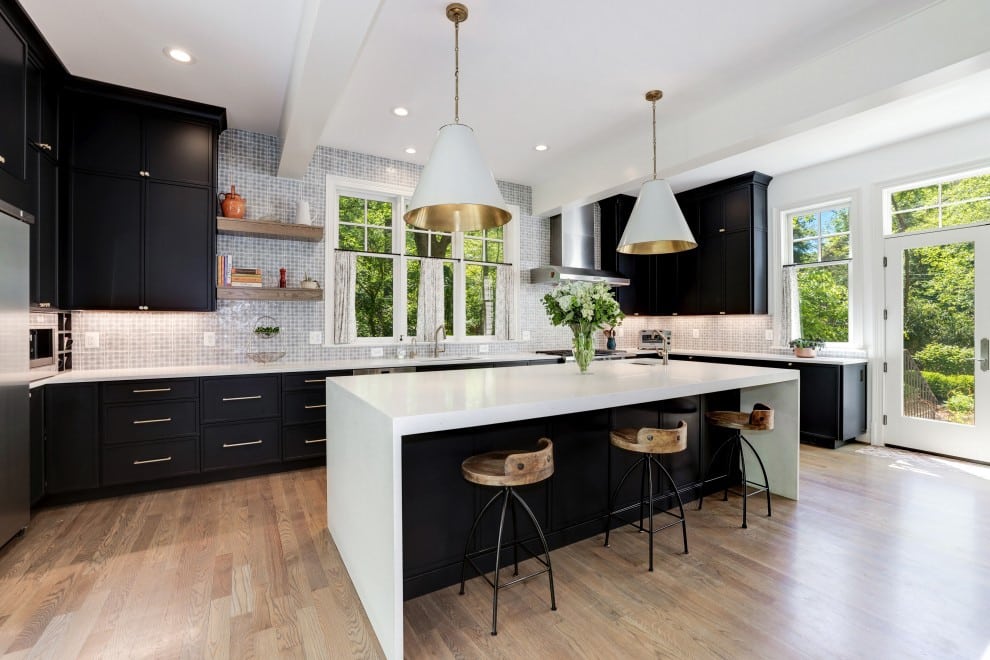 Did you know that black-painted cabinets are loved and despised in equal measure just because of their shades? While their bold black appearance is a great attraction to many, it is a disadvantageous factor to many others. 
Thank you for reading this post, don't forget to the best blogger Guy About Home who offers the best garden and home improvement tips! If you are a home decor and design fan, don't miss the tips on home ideas. If you are a home garden owner, then you might be interest in our complete guides to house plants!
According to interior designers, while black is an attractive shade yet it can look old and dingy if it is not used correctly.  So, how can black cabinets be made to look attractive at all times? 
In this article, we will explore strategies for enhancing the outlook of black kitchen cabinets. Continue reading to get access to inspiring black cabinet ideas. 
Are Black Cabinets in Fashion?
As timeless cabinetry designs, black-painted cabinets are arguably the most popular type of cabinets after white cabinets. From the 1700s when drawers started to be common in kitchens until the present time, these cabinets have unfathomably rocked the global interior design industry. 
This 2023, black kitchen cabinets are the most searched, in both brick-and-mortar and internet-based furniture parlours. Below are notable reasons why black-painted cabinets enjoy unending popularity. 
The Simplicity of Using Black Kitchen Cabinets
Believe it or not, black cabinets-compared to other cabinetry designs-are the easiest to use. Black can be blended with almost every color, which means, it is easy to incorporate black cabinets in different types of interiors. 
From offices to hotels, living rooms and kitchen halls, black-painted cabinets seem to be everywhere, all because of their simple appearance. With demand for colourful kitchens on a sharp high rise, black kitchen cabinets are bound to become even more popular since their black shade is the best for highlighting color contrast. 
The Functionality of Black Kitchen Cabinets
The bold dark shade of black kitchen cabinets makes them good absorbers of heat. Therefore, black-painted cupboards tend to make interiors warmer, regardless of the extent to which that interior is frequented. 
Apart from making your kitchen hall warm and inviting, black-painted cupboards can lessen the time taken or money used on routine cabinet cleaning exercises. Because black can conceal dust, black cabinets may not require constant cleaning if you take care of them well. 
Variability of Black Kitchen Cabinets
While different cabinet designs exist in multiple varieties, black cabinets are some of the most versatile in terms of design varieties. From farmhouse to vintage, modern, and contemporary cabinet styles, there are varieties of black cabinets you will find if you carry out a quick search. 
Black-painted cupboards do not only vary in terms of design but color features as well. Based on what works best for you, you can opt for the indigenous black color or one of its shades, for example, charcoal or mate black. 
Tips on How to Make Black Kitchen Cabinets Look Modern
Now that you've uncovered the popularity of black kitchen cabinets, it would be nice if you discovered how to make them look great at all times. 
Here are proven tips on how to facelift the outlook of black cabinets. 
1. Mix and Match Colors
Since the color black can look dull when used alone, one sure way to make black kitchen cabinets stand out in terms of eye-catchiness is by enhancing color contrast. To bring color contrast to a kitchen with black-painted cupboards, you need to incorporate lighter colors on the walls, floors, ceiling, and hardware like sinks etc. 
If you don't like drawers with a single color scheme, you can mix black with a brighter tone such as white on various parts of the cabinets. For example, you can let white dominate the upper parts and black the lower parts or vice versa, based on your design preferences. 
2. Polish the Cabinets
Because black kitchen cabinets can look dull and old-school when they are fading, you may need to occasionally polish yours if you want them to maintain a brand new appearance. However, if they have faded exceedingly, you may achieve better results from repainting rather than polishing them. 
A professional furniture designer can help you identify the right polish or paint for your drawers. You should always put the design material of your cabinetry into consideration when planning to polish or repaint. 
3. Refurbish the Cabinetry
Black cabinets with rustic or old-school ornaments, fixtures, and other outdated decorative elements can appear unattractive, especially to modern kitchen enthusiasts. If you want your black kitchen cabinets to have an air of modernity, one viable option you can take advantage of the replacement of parts and fixtures. 
By replacing worn-out and rusty components with modern fixtures and decorative elements, you can easily transform the outlook of black-painted cabinets. Before embarking on the refurbishment exercise, you need to consider the following; 
Cost of refurbishment Vs. cost of purchasing new cabinets

The amount of cash you have set aside for the exercise

The interior design aspects of your kitchen

The state of the cabinets
4. Regularly Clean the Cabinets
Regardless of how frequently you paint or polish your black kitchen cabinets, they are bound to look old and untidy if you don't clean them regularly. Hence, you must set aside time or money for cleaning the cabinets to make them look new every day. 
Fortunately, these cabinets are very easy to clean, which means that you won't lose much from setting aside a regular cleaning schedule. When cleaning black-toned drawers, you must always use a gentle liquid like water, to avoid interfering with their shade.
Are Black Cabinets Ideal for a Modern Kitchen?
Whereas they started with classic interiors, black kitchen cabinets are perfect for modern kitchen designs, thanks to their bold outlook. Because their bold black shade makes them compatible with almost all colors, these drawers perfectly align with the modern kitchen design emblem, which is typically bold and colourful. 
If you want cabinets that can instil a modern appeal into your scullery while giving you possibility to try out multiple designs in the future, cabinets with black paint are perfectly ideal for you. 
Final Thoughts
Besides white cabinets, no other cabinet designs can beat black kitchen cabinets in terms of popularity. These drawers have been in the interior design industry from the 1700s until now. From traditional to contemporary designs, they come in varieties. Due to their simple visual appearance, they can blend in all kitchens. 
Discover more ideas on home renovation by connecting with us. We have lots of ideas to spur your next home improvement exercise.