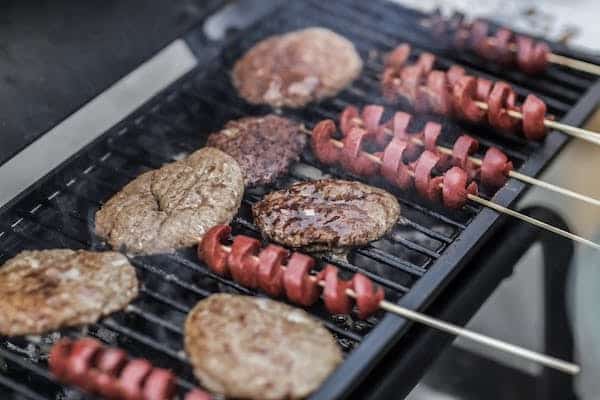 An outdoor kitchen is perfect for summer dinner parties and get-togethers, but putting one in can be really expensive. However, it doesn't have to be. You can put together an aesthetically pleasing and perfectly serviceable outdoor kitchen for very little money. You'll have to buy materials, and of course you'll need to buy a grill and a cooler or mini fridge, but you can use these tips to build your own outdoor kitchen on a tight budget.
Thank you for reading this post, don't forget to the best blogger Guy About Home who offers the best garden and home improvement tips! If you are a home decor and design fan, don't miss the tips on home ideas. If you are a home garden owner, then you might be interest in our complete guides to house plants!
Keep Your Layout Simple
There are several different layout plans you can use for your outdoor kitchen, but the simpler your layout, the cheaper the finished kitchen will be. A simple island layout, where everything is arranged in a straight line, will be the cheapest, although a simple L-shaped layout can be cheap, too – and you can always add a kitchen island, bar cart, or grill station inexpensively, too (more on that later).
You can build a simple outdoor grilling island two two-by-fours, wood, and a piece of countertop. You can finish your grilling island with a stone or brick veneer for a more rustic vibe. Make sure you're able to use your grill covers and that your layout makes room for workspace, a mini fridge or cooler, and a sink.
Use Reclaimed Materials
Reclaimed materials, like old barn wood or old bricks, are perfect for building outdoor kitchens. If you can reclaim materials from somewhere else, you'll save a lot of money. For example, this corrugated steel and wood outdoor kitchen was built with materials reclaimed from an old barn.
Try Concrete Countertops
Concrete countertops can look great with stone, wood, or stainless steel. They last a lot longer in harsh weather than marble or granite, so if you're in a climate that gets hard freezes, and especially lots of freezes and thaws, you want a concrete countertop because it won't buckle or crack. You can inlay your concrete countertops with pieces of glass or other pretties.
Upcycle Old Kitchen Cabinets
Old kitchen cabinets can be perfect for upcycling into an outdoor kitchen. You only need a couple of cabinets for a grilling island. Go to your local architectural salvage yard, to a Habitat for Humanity Restore, or to your local thrift stores to look for used kitchen cabinets. Get some sturdy ones made of wood that can be easily weatherproofed. You can repaint and refurbish them for your outdoor kitchen. You can also look for pieces like long, steel workbenches (the kind they have in commercial kitchens) orbar carts or kitchen islands that you can use outdoors.
Tile Your Outdoor Kitchen
If you want to build an outdoor kitchen out of wood, tiles are a great solution for covering and waterproofing it. You can use tiles to cover your entire outdoor kitchen – they make a great countertop surface, too. Search for cheap tiles in the clearance section at your local hardware store.
Assemble a Portable Outdoor Kitchen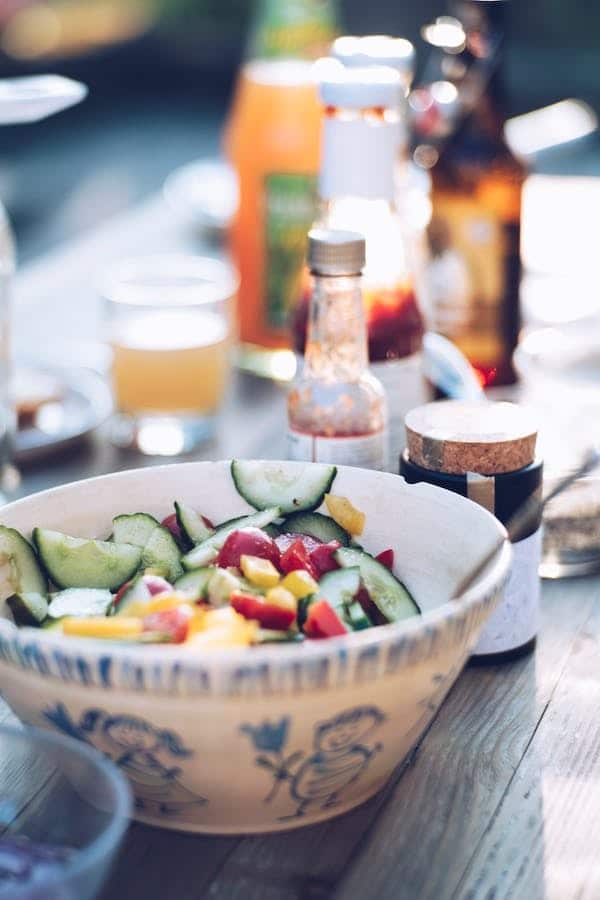 A portable outdoor kitchen provides the best of both worlds – the work space you need to prepare a meal, with the ability to put everything away in a garden shed or bring it inside to protect it from the weather. You can easily build a wood-and-concrete portable grill station. Build an outdoor minibar where guests can congregate while you're making the food. A portable outdoor kitchen can have a small sink, a portable grill, a nook for a propane tank and, of course, a couple of wheels on one end so you can pick it up and move it around.
Build Your Own Island, Bar Cart, or Grill Station
Sticking to a simple layout can help you keep the cost of your outdoor kitchen down, but it doesn't have to mean sacrificing work and storage space. You can expand your outdoor kitchen by building your own kitchen island (or using a kitchen island table outdoors), assembling your own grill station or even putting together your own bar cart (or, again, using an indoor bar cart outdoors).
You can easily convert a utility cart into a grilling station with storage for spices, utensils, and ingredients. You can add a floating shelf to the middle of a wooden crate and flip it on one end to create a cabinet with storage cubbies for paper plates, condiments, napkins, and so on. You can even turn a plain stainless steel cart into an eye-catching kitchen island.
If you want an outdoor kitchen on the cheap, the solution is to build it yourself. With cheap, used, and reclaimed materials, you can build a fabulous outdoor kitchen for a fraction of the cost of a professional job.