California and Nevada are nearly 100% in drought, according to the U.S. Drought Monitor. The past 3 years have been the driest on record in California, and the third driest in Nevada, according to NOAA's National Centers for Environmental Information. Water is not an unlimited resource, and some states are becoming very worried about how much clean water will be available to them in the next few years.
Thank you for reading this post, don't forget to the best blogger Guy About Home who offers the best garden and home improvement tips! If you are a home decor and design fan, don't miss the tips on home ideas. If you are a home garden owner, then you might be interest in our complete guides to house plants!
The good news is that people are being proactive about water usage and conservation. After assessing their personal water usage, some have determined that traditional lawns are increasingly unsustainable.
Alternative solutions, including artificial turf, are increasing in popularity, especially in states where the temperatures are high and water availability is low.
Artificial turf isn't what it used to be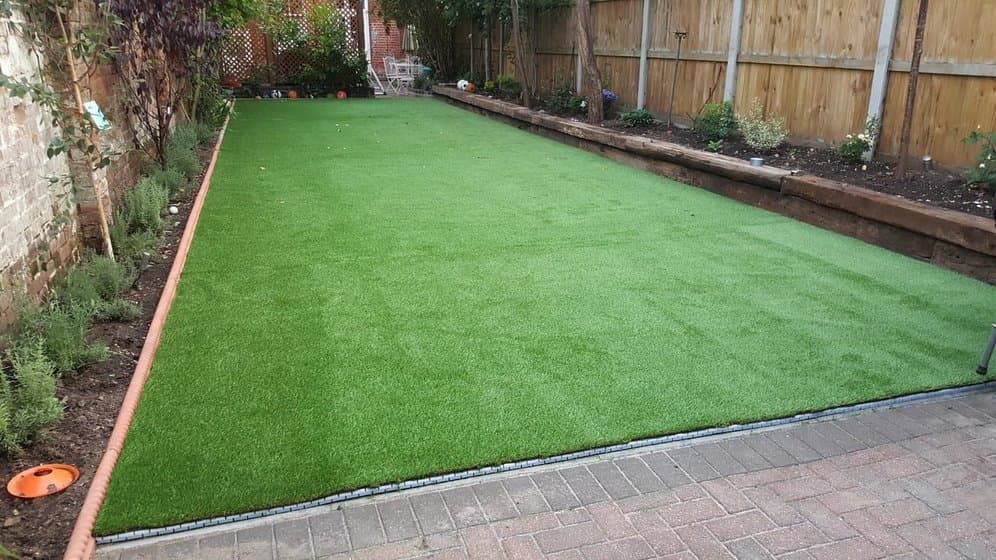 Image Source: Pinterest
When artificial grass was invented in the 1960s, it was rough, unattractive, and looked obviously fake. But faux lawns have come a long way since then. There is artificial turf designed just for residential use, and there are several different brands, styles and materials to choose from.  
That level of realism appears to have been enough to convince a modest number of homeowners to make the switch; industry figures reported a 15% nationwide growth since 2017 for a total of 265 million square feet of installed turf in the U.S. as of mid-2020. Below is a general list of all of the different elements that impact artificial turf's look and feel.
Material
Sometimes referred to as yarn, fake grass is made up of either polyethylene, polypropylene or nylon. 
Polyethylene is the most commonly used material because it is durable and relatively soft. Polypropylene is often used for putting greens and as a thatch layer on landscape grasses. Nylon is the most expensive because it is more durable, but it isn't as soft as polyethylene.
Sub-base
Having a good sub-base is critical to a proper turf installation. The sub-base is a layer of compacted sand, decomposed granite, river rocks and gravel beneath the artificial grass. It acts as the foundation for synthetic turf and needs to be of good quality to ensure proper drainage. 
Weight
Face weight refers to how many ounces of material per square yard a type of turf has. Higher quality turfs are heavier and more durable. 
Thatch
Thatch is additional fiber that makes the grass look more realistic. Brown, taller or thinner blades mimic the inconsistencies of natural grass. 
Density
Denser turf is more durable and provides a more realistic look.
Pile
Pile height refers to how long the blades of artificial grass are. Longer grass is more appropriate for yards, but short grass would work with pool areas and rooftops.
Heat and odor control
One of the shortcomings of artificial turf is that it can become unbearably hot under direct sun. Pet owners will also notice odors are much stronger when dogs or cats relieve themselves on artificial grass. Companies employ various techniques to keep grass cooler and less smelly.    
Drainage
It is important for water and pet urine to be able to pass through the turf into the sub-base below. As such, the turf's backing must be permeable. There are two types of drainage systems; one is 100% permeable and the other is hole-punched. The 100% permeable backing allows water and pet urine to pass directly through any point in the turf. Hole-punched backing has drainage holes every few inches and is better suited for dry areas that seldom see excess runoff. There are also hybrid drainage options available.
Antimicrobial backing
If the lawn is going to be used by pets and/or children, consider an artificial grass product with antimicrobial properties. Antimicrobial additives are added during the manufacturing process and help prevent the buildup of odors, germs and bacteria.
Maintenance is minimal (most years)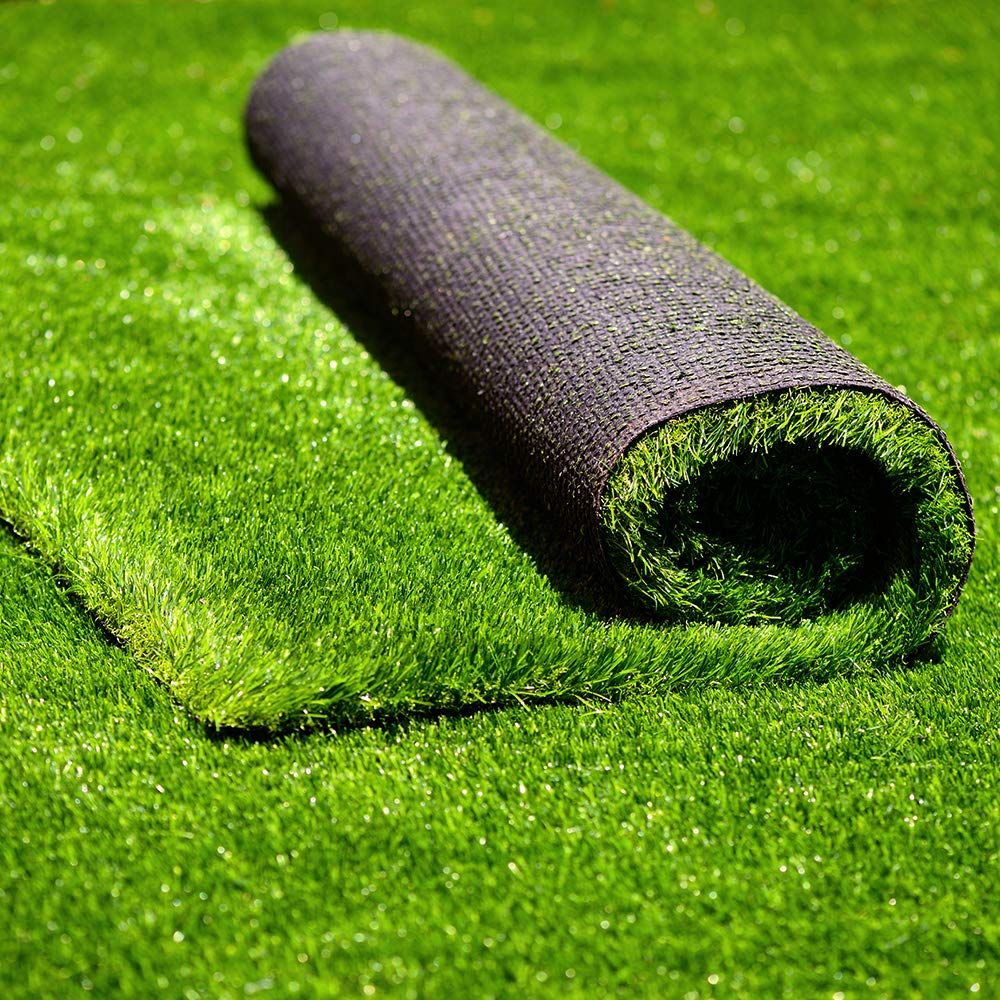 Image Source: Pinterest
If you hate mowing the lawn, artificial turf will take that chore off of your list indefinitely. Fake grass doesn't need to be watered, weeded, or fertilized, either.   
However, most fake lawns will need to be replaced every decade, and owners will need to perform a different kind of maintenance to keep the lawn from looking flat. Natural grass bounces back on its own if it's left alone for long enough. Artificial turf does not do that.
Infill, material intended to help keep blades upright, needs to be applied regularly to create a more convincing springy feel underfoot, and weigh down the artificial grass so it doesn't wrinkle.
Infill is made from a variety of materials, including silica sand and crumb rubber. Some brands also come with antimicrobial, anti-odor, or cooling properties. 
Ideal for environments that challenge natural grass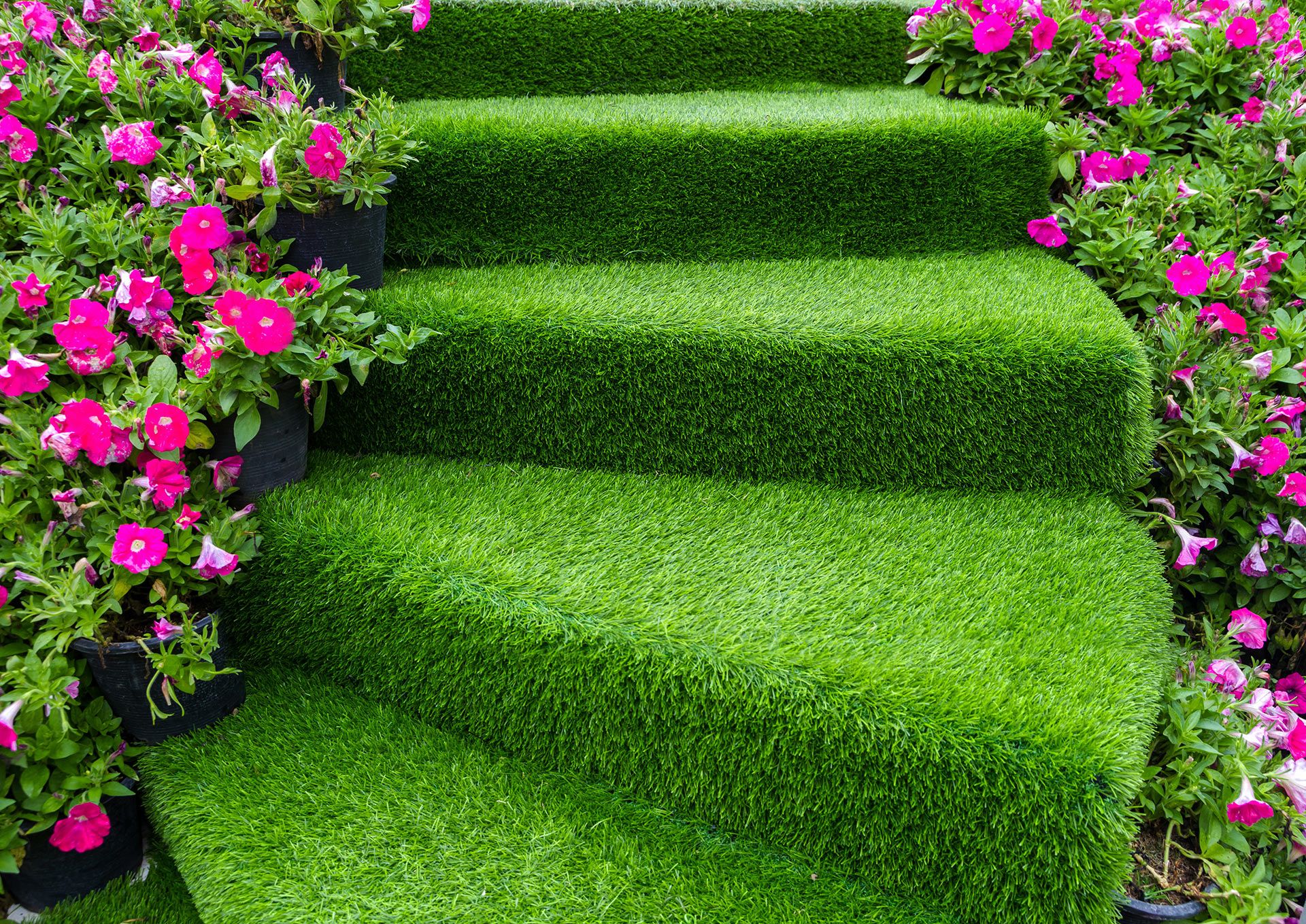 Image Source: Pinterest
Yes, artificial turf is often used to replace natural grass, but it can be used like an outdoor rug to dress up drab concrete or areas where grass simply won't grow. Many big supply warehouses will sell scrap pieces of turf, often at a discount. Owners can install small patches by themselves without too much trouble – but larger installation projects should be left to a professional.  
Laws are removing barriers that may have prevented owners from installing fake turf 
Owners that belong to HOAs may have encountered strong opposition to artificial turf from board members. That's because associations are supposed to maintain uniformity to ensure property values remain relatively equal. But in order to comply with HOA rules and keep their lawns looking lush and green, owners living in hot states would need to water their grass multiple times every week. Not only does this use up a lot of water, but it is a time-consuming chore.
To help lessen conflict between associations and owners, states that are impacted by severe drought are creating laws that promote the use of artificial turf in HOAs.  
California's Assembly Bill 349 prohibits HOAs in that state from imposing unreasonable restrictions on artificial turf installation.
Arizona passed House Bill 2131 which requires HOAs to allow owners to install artificial grass. However, an association may reject or require the removal of a member's artificial grass if it creates a health or safety issue that the member does not correct.
There are exceptions to these rules, which is why members should submit an architectural request to the board before they swap out real grass for artificial turf. It doesn't take too much work to get approval if the community uses an HOA management platform like Condo Control. Owners can submit requests using the platform, and board members can also approve requests online.    
Artificial turf is not for everyone
While there are many good reasons for homeowners to consider artificial turf, it is not the best option for everyone.
Really good artificial turf can cost more than $10,000 for a 1,000-square-foot lot when you factor in installation prices, and up to $6,000 for smaller areas. Then there's the problem of replacing the turf. As mentioned earlier, most fake lawns last for 10 years. After that, owners will need to pay for entirely new materials and another installation.
There are also some environmental concerns; the most obvious being that the grass is not recyclable. Synthetic turf is made from many petroleum-based components, making it nearly impossible to dispose of responsibly.
Though plastic turf poses some problems, it's increasingly being treated as a viable alternative to natural grass.