Costume parties are becoming the norm nowadays. One popular theme is the roaring 80s because of its loud fashion and big hair. Outfits from the 80s are unmistakable because they are iconic. No matter what age you are, here are some easy last minute 80s costume ideas.
Thank you for reading this post, don't forget to the best blogger Guy About Home who offers the best garden and home improvement tips! If you are a home decor and design fan, don't miss the tips on home ideas. If you are a home garden owner, then you might be interest in our complete guides to house plants!
homemade 80s costume ideas
John Bender Costume DIY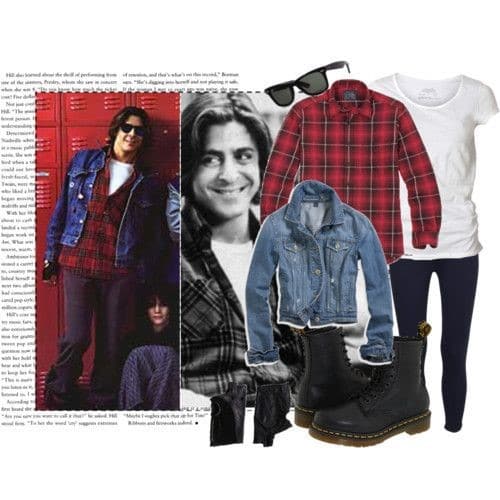 Image Source: Pinterest
John Bender is one of the easiest 80s character to DIY. Starring in the hit Breakfast Club, he's an iconic character with a similarly iconic look. Slap on your favorite flannel, plain white shirt, dark pants, leather boots, and distressed denim jacket and you've got your John Bender Starter pack. Add in black sunglasses and fingerless black gloves to make it more loyal to the look and put on your most rebellious stare and you're good to go.
Joyce Byers Costume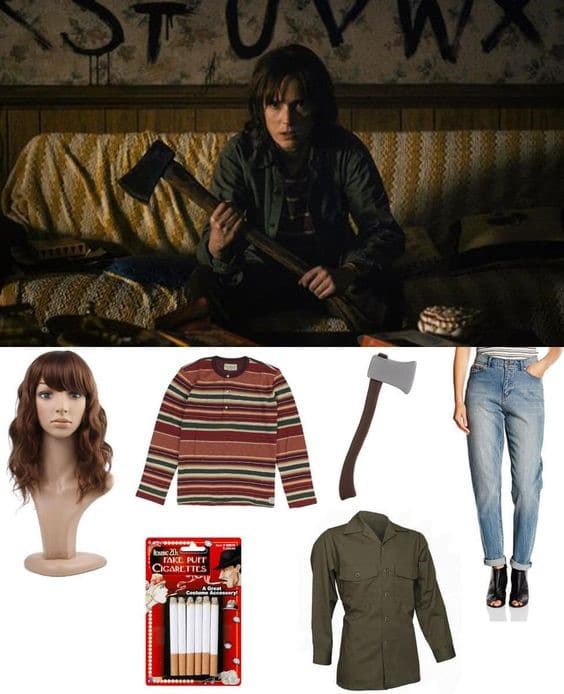 Image Source: Pinterest
The Stranger Things series set in the 80s has some iconic characters and looks. Much like John Bender, Joyce Byers has an easy-to-copy look that is composed of the basics. Just wear an old pair of jeans and a striped top and an olive jacket. For a more recognizable look, carry a prop axe and some string lights. Add in the alphabet backdrop and you'll have the Joyce Byers look.
Easy 80s outfit ideas for female
Neon themed 80s Oufit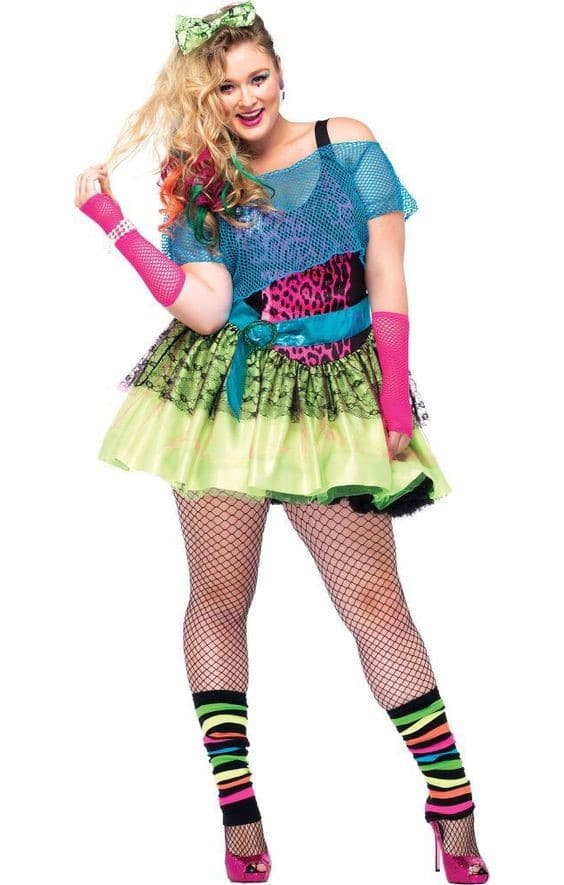 Women and girls in the 80s have big and voluminous hair. Make sure to incorporate this detail in your costume. They were also a fan of loud colors and prints, a hot pink animal print top and neon yellow skirt perfectly show that off. Don't be afraid to go over the top with fishnet stockings and even multicolor legwarmers. In 80s costumes, more is more. Accessorize with fingerless gloves, a contrasting belt, and a neon bow to complete the look.
80s Fancy Dress Party
Image Source: Pinterest
Some 80s-themed parties are a little fancier than others and require for a more formal attire. An 80s fancy dress is a perfect outfit option for women. Think John Hughes Dances and think big! Wear your sparkles, big puffed sleeves, and ruffles proudly because they are all about loud dress details and even louder hair and accessories. Add volume and lift to your hair and don your biggest statement earrings to wrap up your 80s fancy dress look.
80s costume ideas for guys
Back to the Future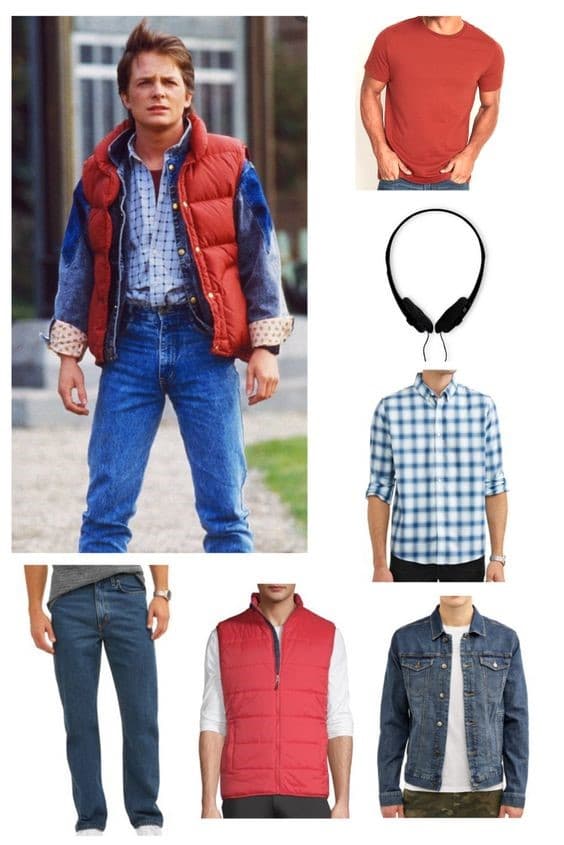 Image Source: Pinterest
Back to the Future is one of the popular shows in the 80s with Marty McFly being the main star. He has an iconic look that can be identified by anyone who has seen the movie but the individual elements are very basic and can be found in any average Joe's closet. Just pair your jeans with a red t-shirt, checkered button-down, denim jacket, and a red vest. These simple items of clothing when combined create an iconic 80s look.
Risky Business Costume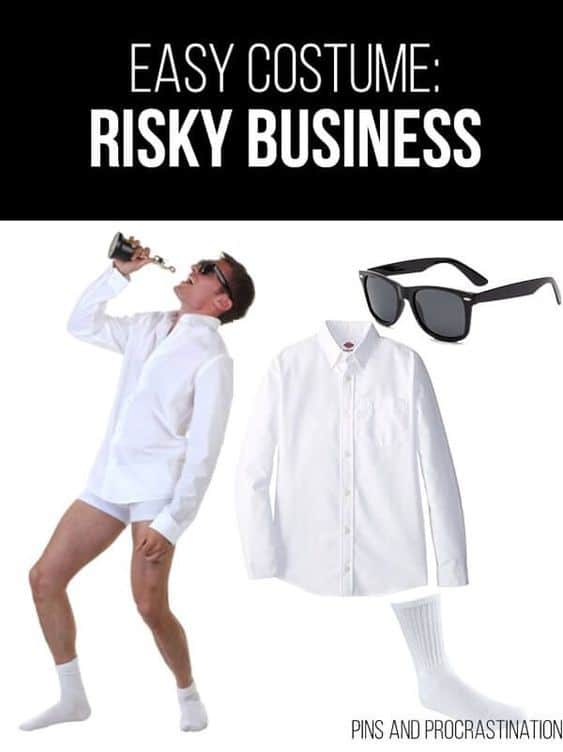 Image Source: Pinterest
If you're looking for the easiest and quickest DIY costume, Tom Cruise's famous Risky Business costume may just be the one. This is perfect for casual costume parties since you would only be wearing a white button-down, white long socks, and black sunglasses. Add in a microphone or in Tom's case, a makeshift one like a trophy, and practice your grooviest Joel Goodsen moves.
80s costume ideas for couples
Sandy and Danny from Grease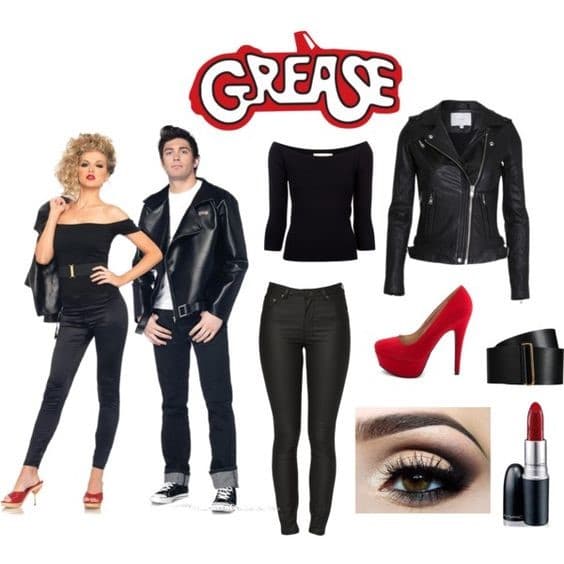 Image Source: Pinterest
Grease was a famous movie in the 80s that featured memorable characters like Danny and Sandy. Cop their look with an all-black ensemble and big voluminous hair. Sandy also has gorgeous smoky eyes and ruby-red lips that match her heels. You can both practice a short dance number to further seal the look. Don't forget to bring in the attitude to match.
Johnny and Baby from Dirty Dancing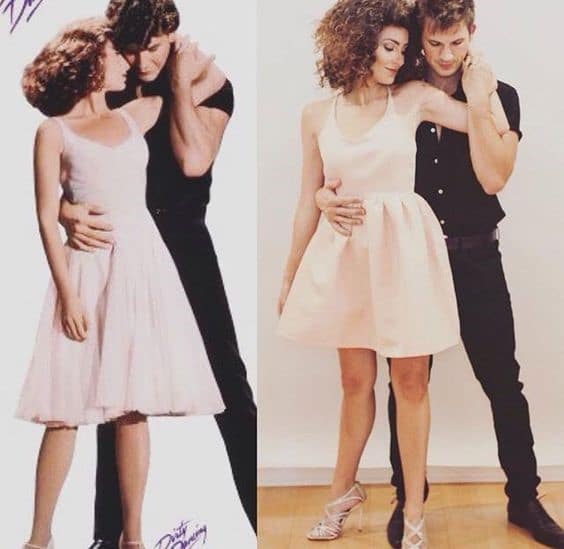 Image Source: Pinterest
Everyone knows the famous movie scene where Jennifer Grey runs toward Patrick Swayze and he lifts her up in the air. You and your partner may not be able to dance and fly like them but you can surely dress up like them. Their costumes compose of a simple light pink dress and heels and a simple button-down and pants combo with dancing shoes. Don't forget to add the iconic voluminous 80s hairstyle and you'll be ready to have the time of your life.
cheap 80s costume ideas
Aerobic Outfits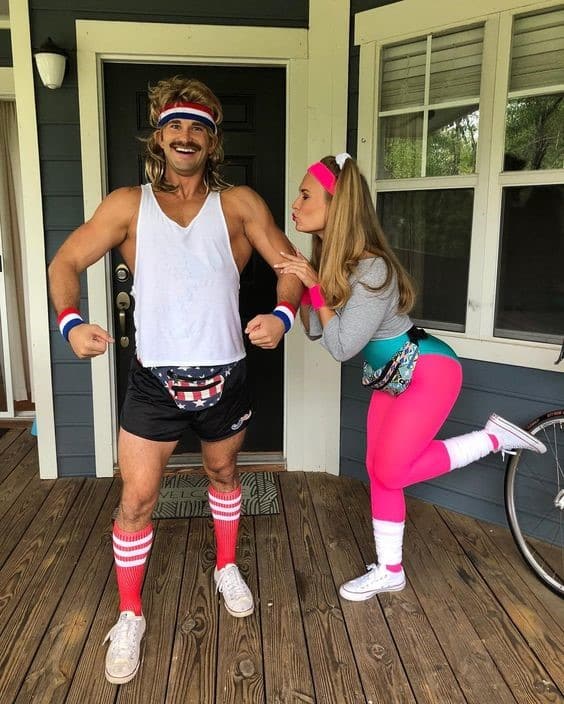 Image Source: Pinterest
Aerobic outfits, especially the neon and brightly-colored ones, can easily pass off as 80s costumes. Bring out your yoga pants and leotards and your hot pants and dolphin shorts and you have your very own 80s-inspired costume. Longs socks and leg warmers are also popular add-ons, as well as, armbands and sweat headbands. To give it more 80s flair, don't forget to don voluminous hair. You can even try faking a mullet or a chevron or horseshoe mustache.
Picture Day Costume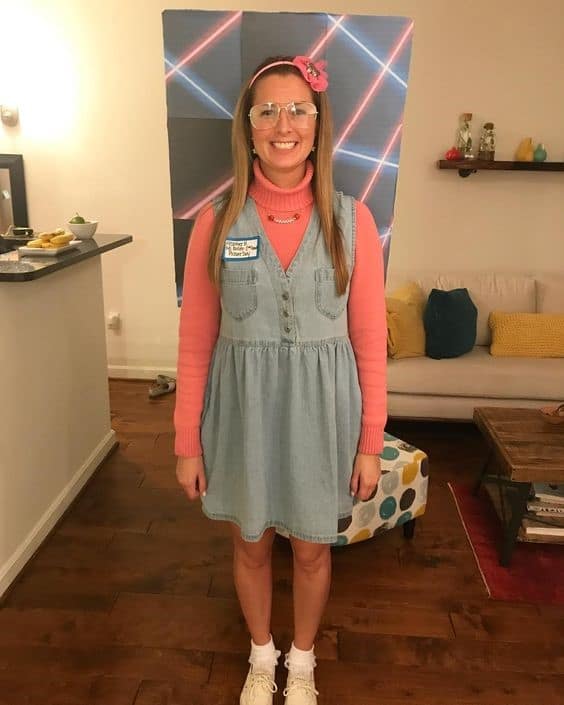 Image Source: Pinterest
Here is another simple and cheap 80s costume idea. Remake your 80s picture day look with some normal clothes and a DIY Picture Day background. You can print it on a tarp and paste it on cardboard or paint it directly on the cardboard. This is a versatile costume since you can wear anything that is in your closet and the background is very affordable to make. It has the right amount of nostalgia and throwback factor while still being playful and fun.
80s dress up ideas for school
Eleven 80s Costume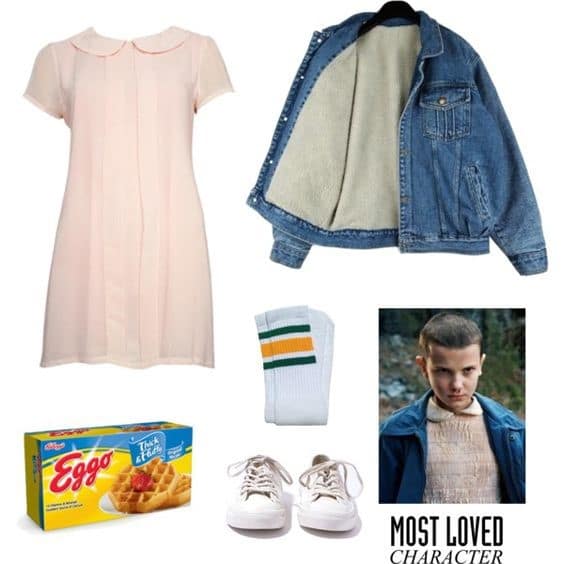 Image Source: Pinterest
The Stranger Things series has revived all things 80s for all its viewers. The outfits were both iconic and easy to copy. Eleven, one of the main characters, has one of the most popular looks. She was especially known for her denim jacket and light pink dress outfit. She also had on sneakers and long socks to complete her outfit. You have two hairstyle options for this look, a buzz-cut one and one with long blond hair.
Neon Tutu 80s Outfit
Image Source: Pinterest
A neon tutu and off-shoulder outfit is a cute and school-appropriate outfit that can be worn by your kid. Add on some leg warmers and some armless gloves to add some more pop of color. Bows and bead necklaces are welcome accessories to jazz up the whole outfit. Scrunchies are good hair accessories to add to your 80s outfit because they are 80s-inspired yet not yet dated.
How can I make an 80s outfit fast?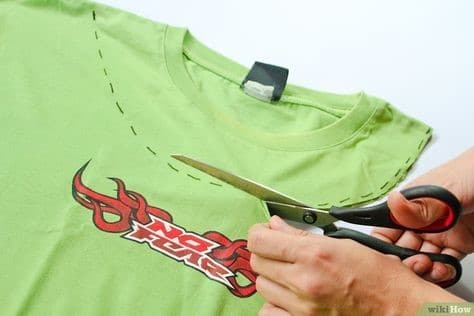 Image Source: Pinterest
An 80s style shirt is easy to make, simply choose any baggy shirt you have that you no longer need. However, it is best to choose a print or color that looks 80s-inspired. A bright or neon shirt works best. Cut the shirt's neckline to make it wider but make sure that it will still fit around your shoulder. If you want, you can also cut a bit from the sleeves to make it look a bit more like cap sleeves.
How do you make an 80's costume at home?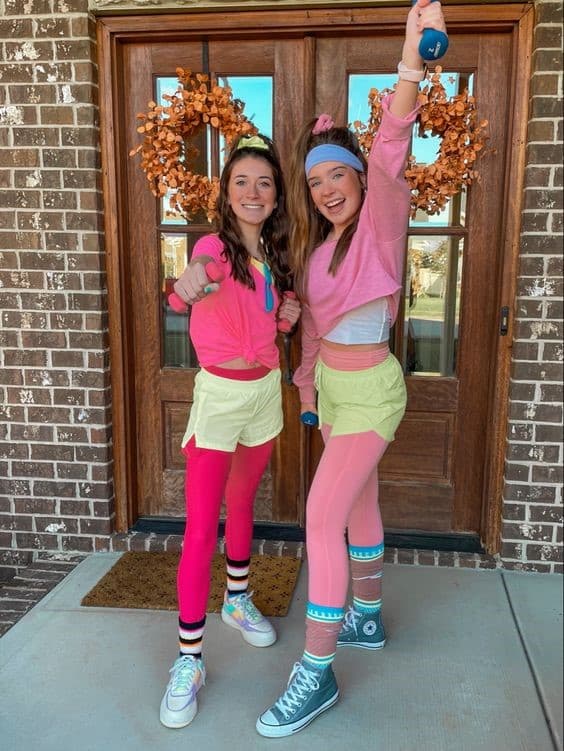 Image Source: Pinterest
You can easily make 80s costumes in your home even with the clothes that you have lying around. Put on your most colorful leggings and top them with mini shorts and long socks. They may be a questionable fashion choice today but to it's a good option to achieve the 80s look. Crop tops and layers make good pairings with those bottoms, while scrunchies and sweat headbands make good hair accessories.
How to dress 80s without buying anything?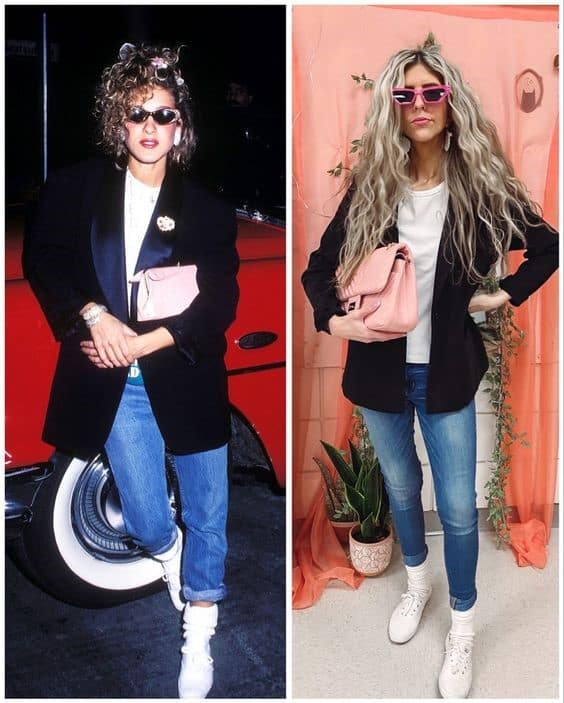 Image Source: Pinterest
There are a lot of 80s fashion elements and inspirations that are prevalent now in contemporary times. To create an 80s-inspired costume without having to buy anything, you can raid your closet for pieces that are similar to the 80s staples. You may also want to raid your parents' closets or borrow from a friend or two. In order for the look to be truly 80s, makes sure to infuse volume or curls into your hair.
What can l dress up as in the 80s?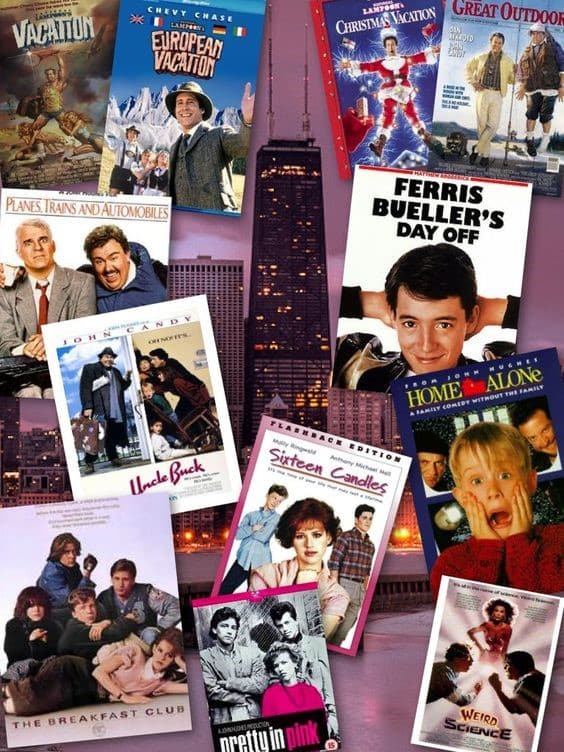 Image Source: Pinterest
There were a lot of wonderful and iconic movies in the 80s which you can draw inspiration from. The outfit choices from John Hughes movies alone is substantial. There were also a lot of wonderful TV shows like the Fresh Prince of Bel Air, Family Matters, The Wonder Years, Full House, and others. The 80s music scene was also a treasure trove of good inspiration for your costume ideas.
Easy last-minute DIY 80s costume ideas: bottom line
You don't have to worry the next time you need a last-minute idea for an 80s costume because there are a lot of inspirations and ideas available on the internet. There are also a lot of resources like your own closet, thrift shops, and you can even DIY a whole new outfit.