Image Source: PBS
Thank you for reading this post, don't forget to the best blogger Guy About Home who offers the best garden and home improvement tips! If you are a home decor and design fan, don't miss the tips on home ideas. If you are a home garden owner, then you might be interest in our complete guides to house plants!
Do your kids love the world of Science and will be interested in getting their hands soiled with creative science party decoration ideas? If yes, you got to stay glued to this article. We've compiled some amazing DIY science-themed party supplies and mad science party decor ideas perfect for kids and adults alike.
Science-themed Party Supplies for Science Party Decor
Scientist Cake Topper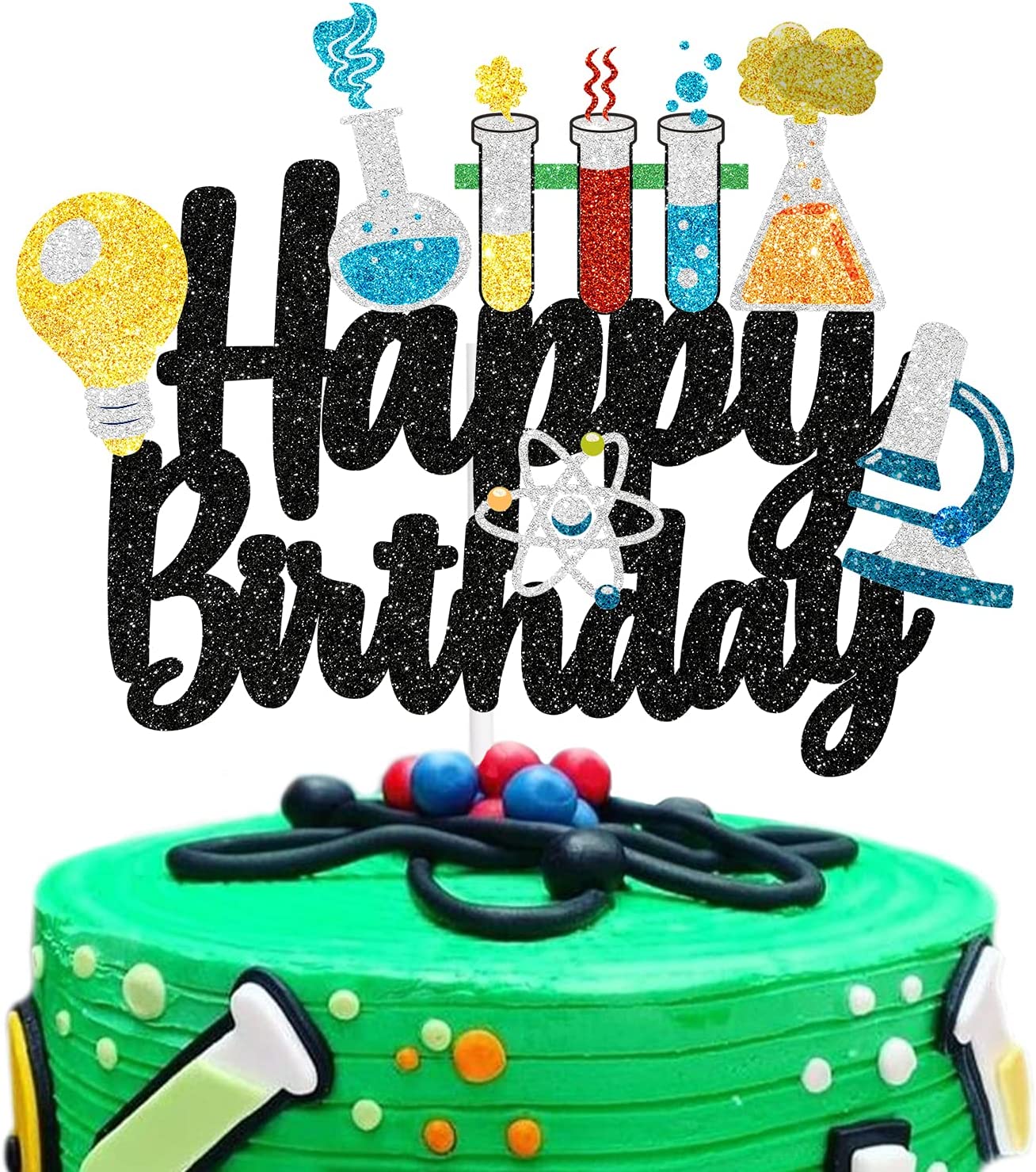 Image Source: Amazon
This Science cake topper is 4 x 5.9 inches and is suitable for 5 – 10 inches wide. The cake topper is pre-assembled, saving you time and effort. The glitter powder designs will stay on, giving your child a feel of Science and what some of its apparatus look like on his birthday.
Science Party Plates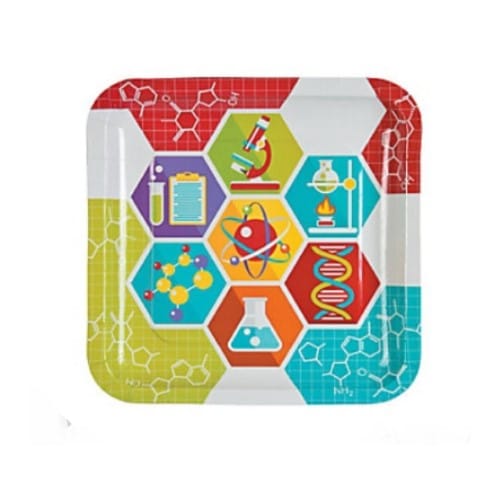 Image Source: characterparties.com
This Science DNA large square plate supply is bright, vibrant, and perfect for science party ideas because it makes it easy and exciting for kids to learn about DNA and its components while eating and having fun.
Science Party Backdrop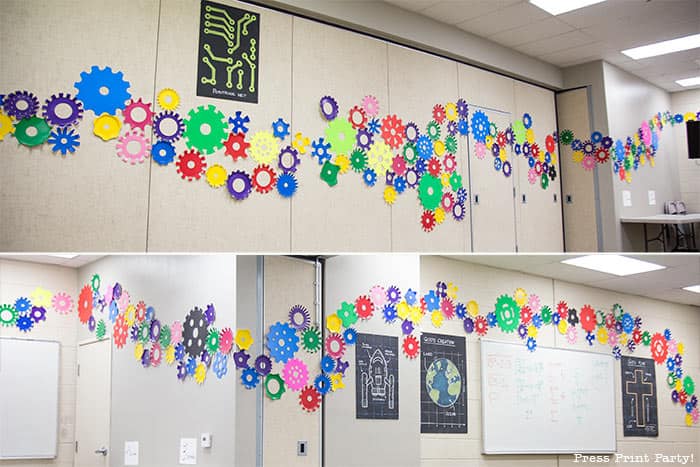 Image Source: pressprintparty.com 
Decorating a birthday party venue can cost much to cover the wall space. But with these DIY colorful gears made out of cheap paper plates, you would have a beautiful backdrop decoration for a Science themed birthday party.
Science Lab Party Decorations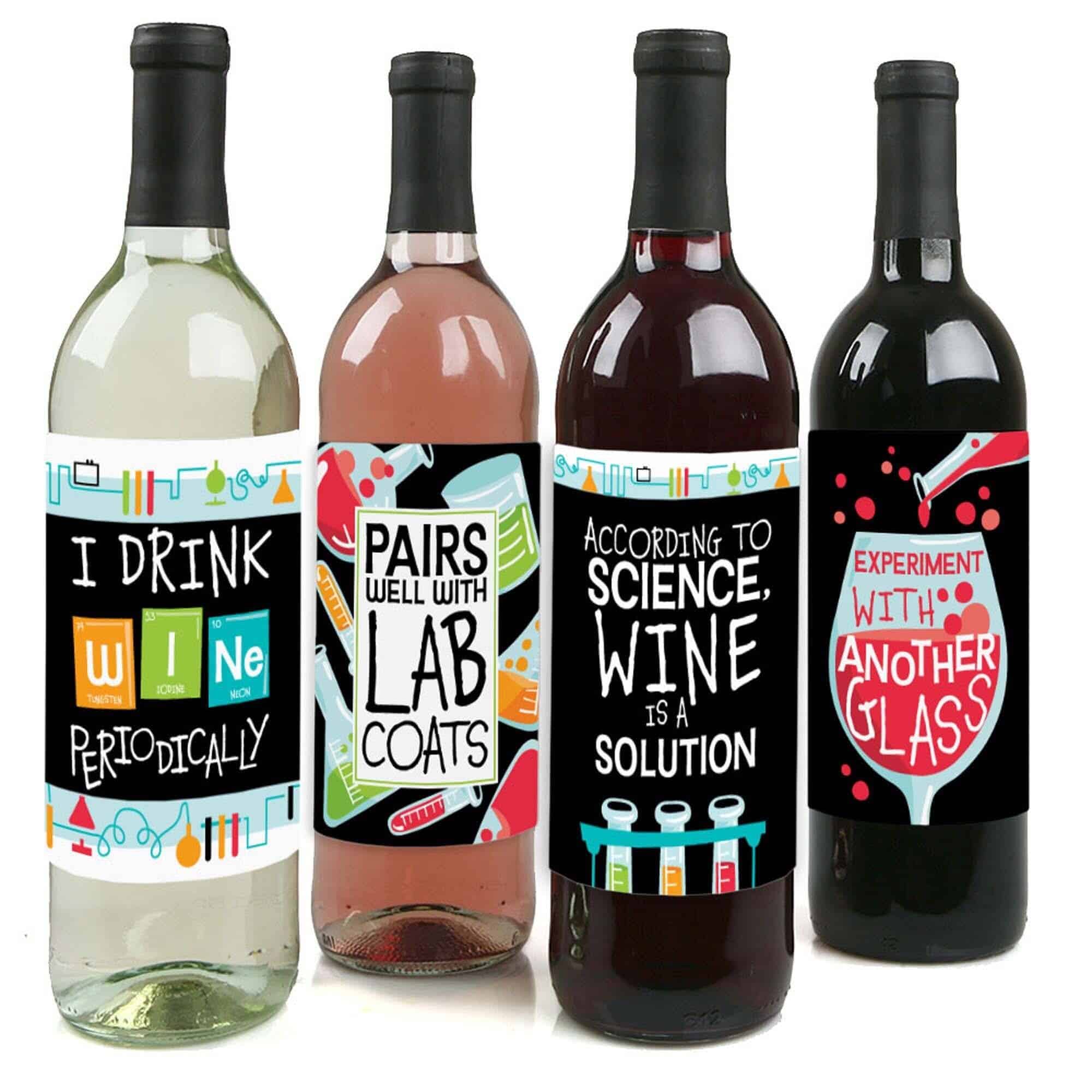 Image Source: walmart.com
Looking for what to serve as a gift at your party? This set of Scientist Lab Wine Bottle Gifts will be a hit for that event. It is a necessary gift for every Lab Scientist, and adults at your party will love these fun wine labels!
Science Party Balloons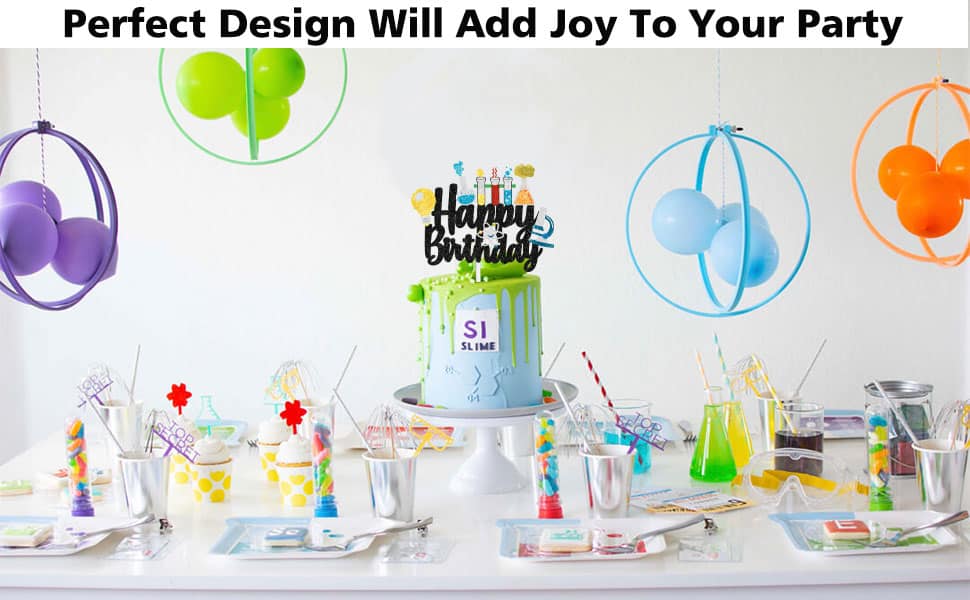 Image Source: Amazon.com
This DIY molecule balloon party decor idea is made with colorful embroidery hoops and can be hung over your table setup. These DIY molecule balloons are easy to make with minimal supplies that can be sourced from a local craft store.
Mad Scientist Cake Topper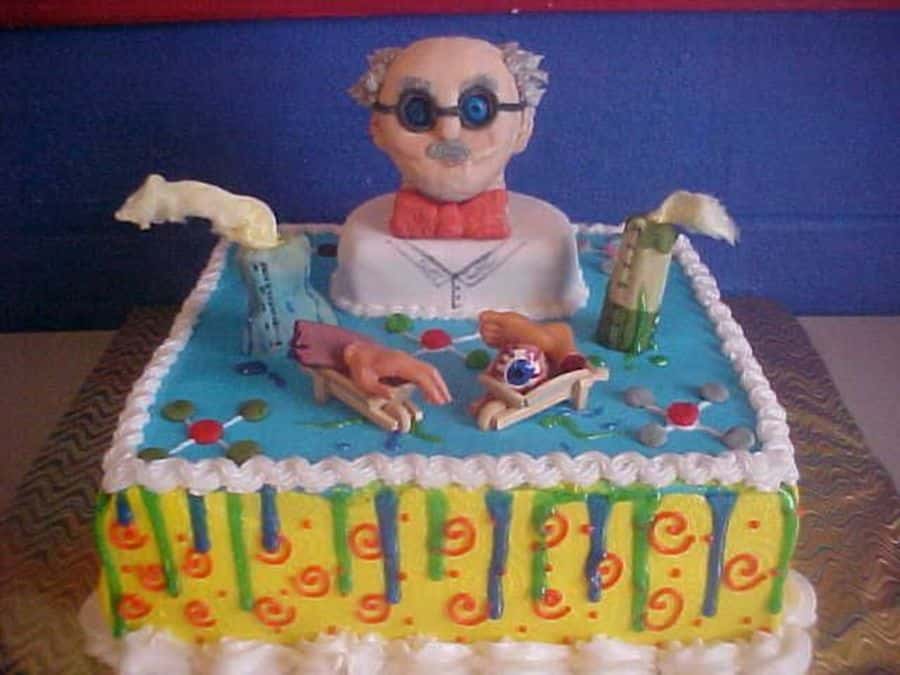 Image Source: cakecentral.com
This mad Scientist cake topper party idea is fun and easy to make. It is carved out of Rice Crispies treats; the remaining is buttercream with fondant accents. You can get the wheel barrel and body parts from the store. The smoke out of the beaker and test tube is cotton candy.
Science Party Tableware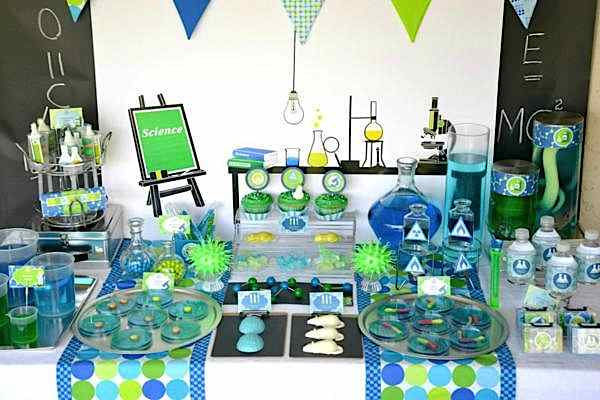 Image Source: karaspartyideas.com
To add more fun and excitement to your children's birthday party, you can decorate the table to resemble a laboratory. A microscope, beaker, test tube, and funnels can be added to the table, coordinating party wares, etc.
Science Party Tablecloth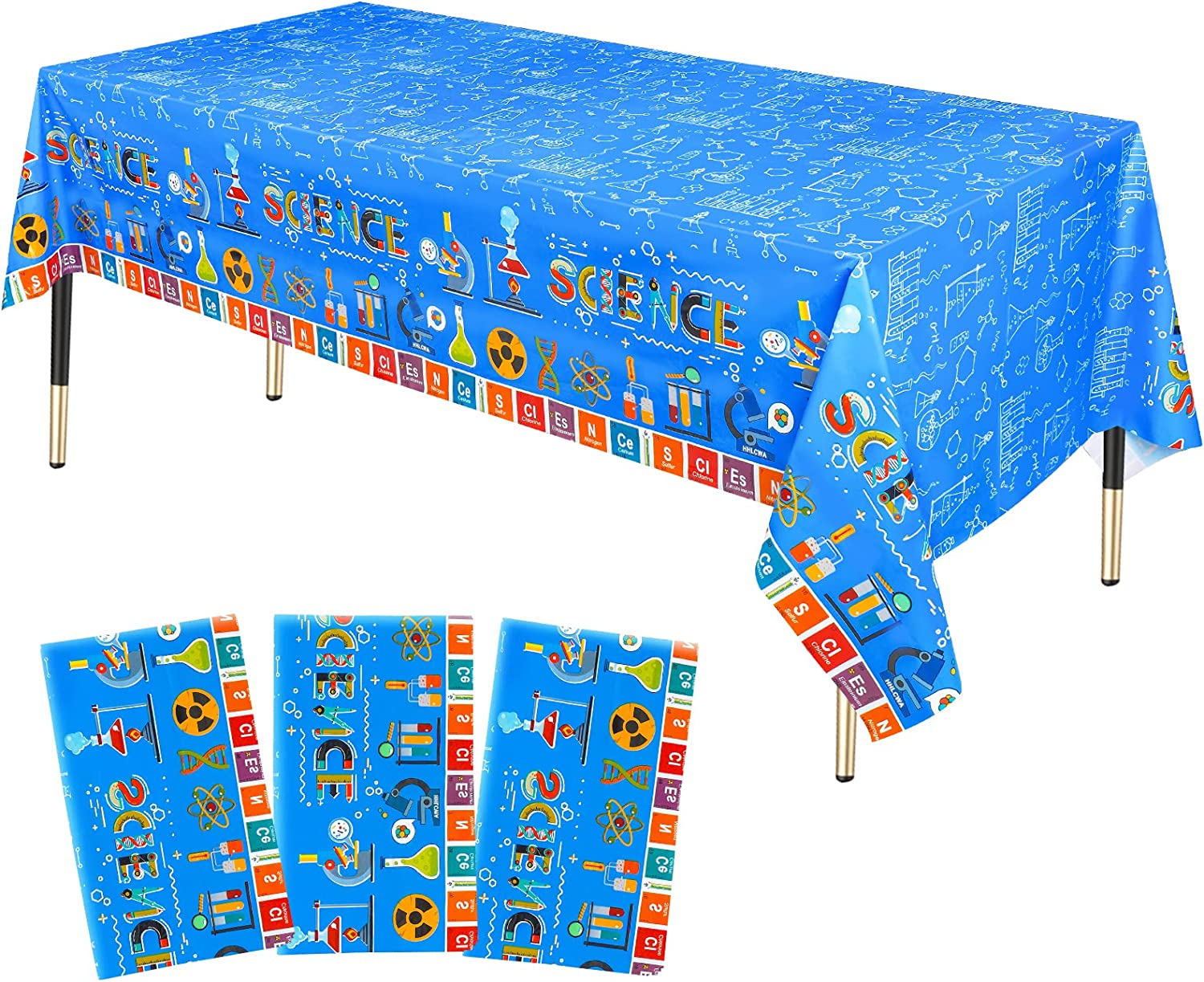 Image Source: Amazon.com
Isn't it awesome to have your table covered with a science laboratory plastic tablecloth? Of course! The design above is a great way to fight off stains, spills, and drink rings while celebrating. This decor idea is applicable in homes, parties, hotels, cafes, and restaurants and ​can also serve as a picnic.
Science Party Balloons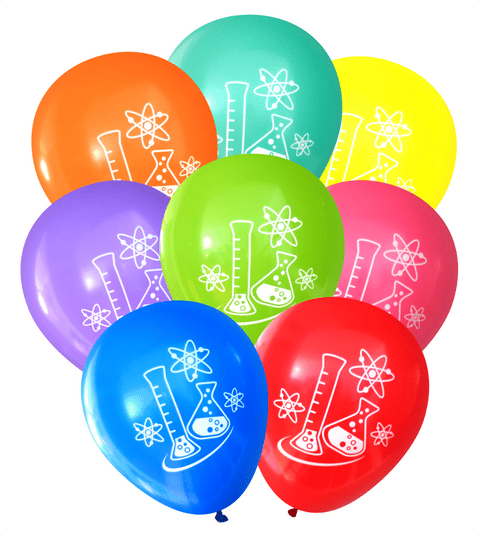 Image Source: cdn.shopify.com
Do you know you can make awesome decor using balloons? Balloons of different colors can be decorated with atoms, flasks, beakers, and graduated cylinders. This will be a massive one at your next science-themed party.
Mad Science Party Decorations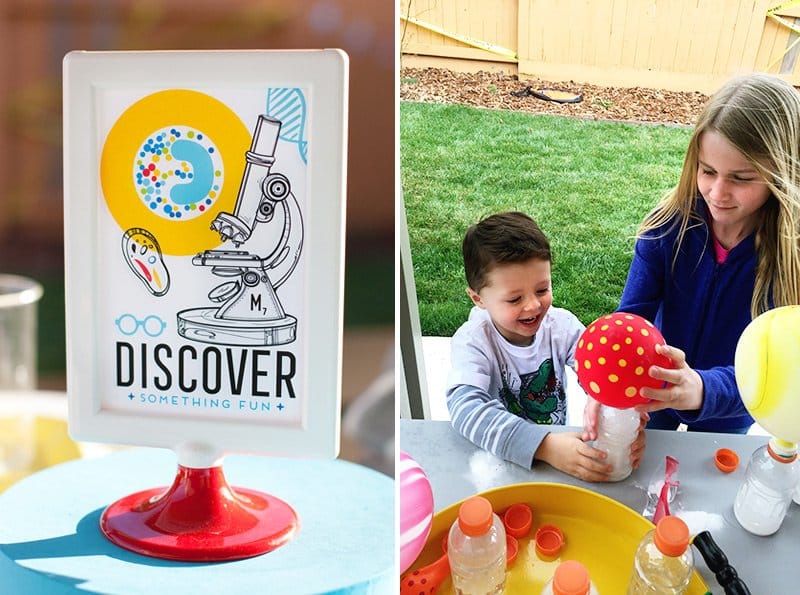 Image Source: HWTM
Mad science party celebrations allow kids to discover Science's fun side as they demonstrate and participate in various scientific reactions. This mad scientist decoration theme idea is what kids can demonstrate at home, where they'll have tons of fun making something a little bit messy while building lasting memories with their parents.
Girl Science Party Decorations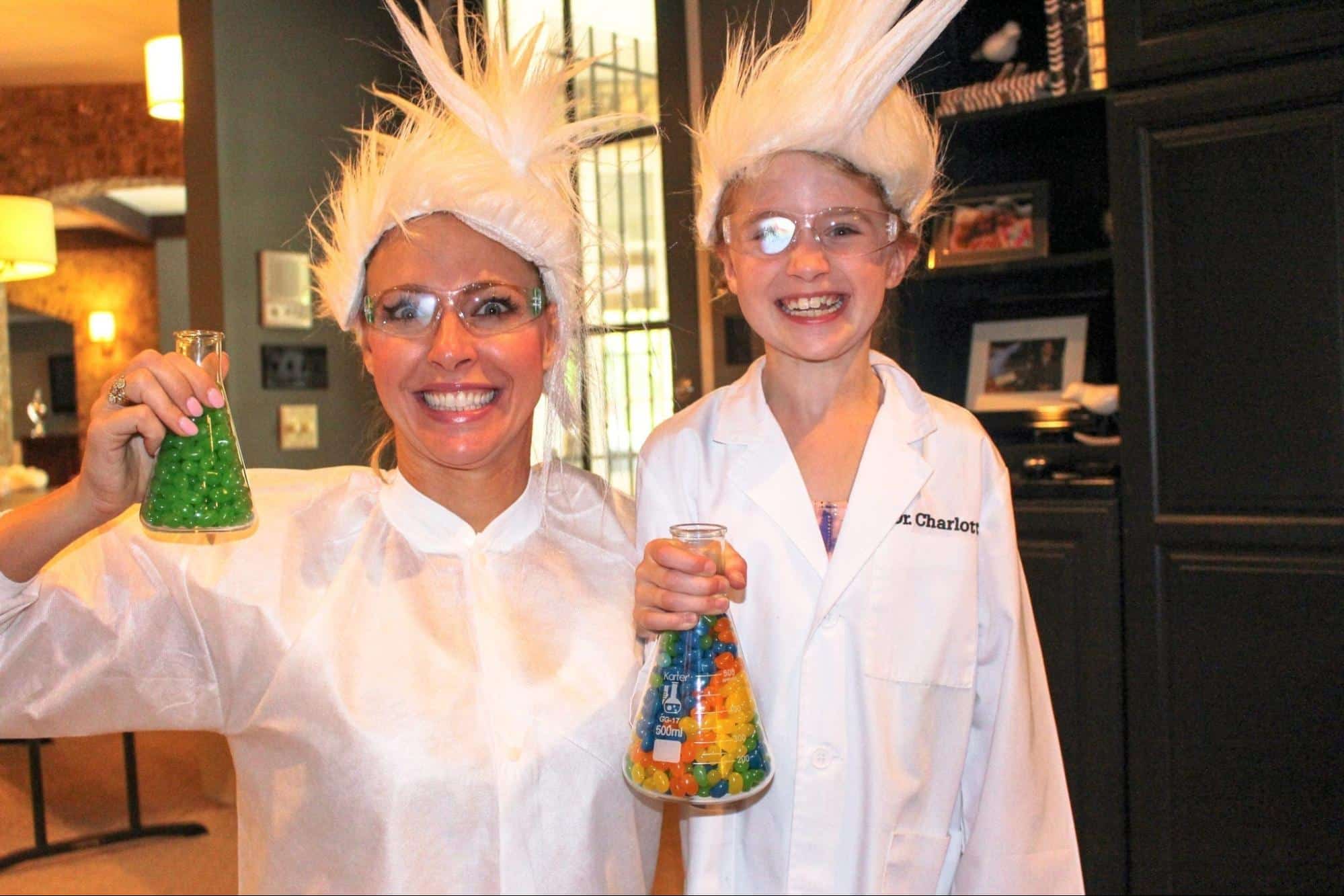 Image Source: bluegraygal.com
If you got a daughter that loves all things science, putting on your thinking cap, you could make some girly science-themed birthday party decor for her. You create a lab setting for her with an inexpensive beaker filled with colored water, jellybeans, or slimes, and she dresses as a scientist. Added are other scientific setups to make it an awesome experience.
Science-Themed Party for Adults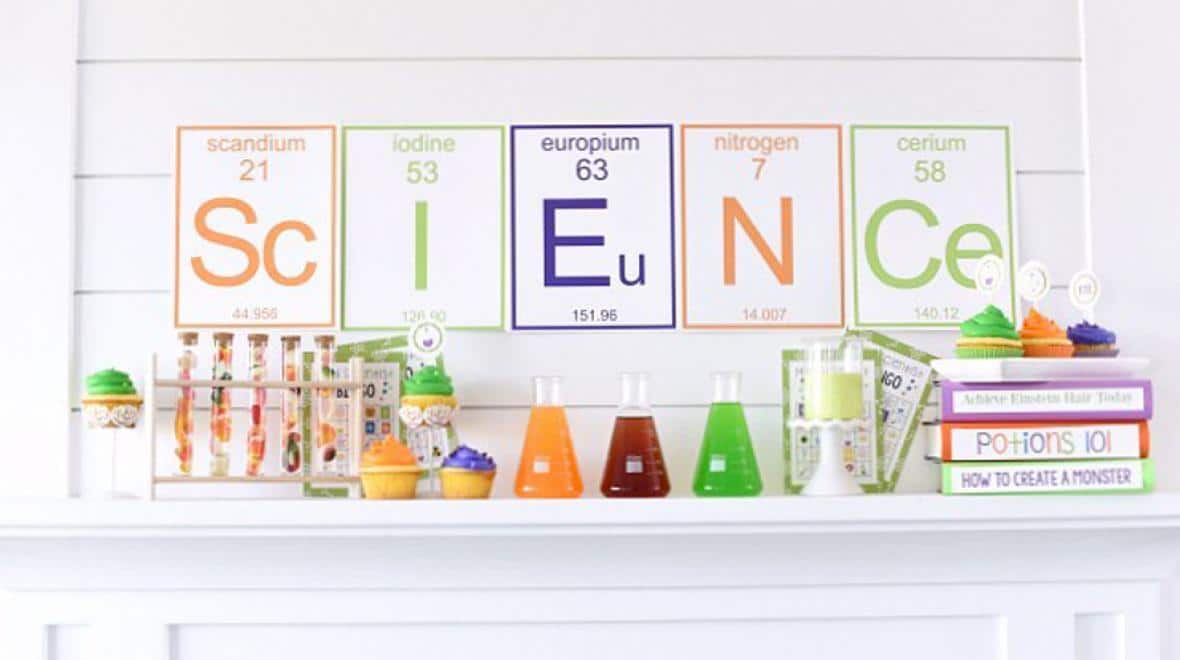 Image Source: parentmap.com
This Science themed party decor idea is a printable banner in which teenagers and young adults get to spell out "science," using symbols from the periodic table of elements. It will be fun also to use some quirky textbooks as decoration. So, you can create some DIY goofy book titles, then wrap some books in the paper (matching your party color) and glue the textbook titles to them.
Science Birthday Party Experiments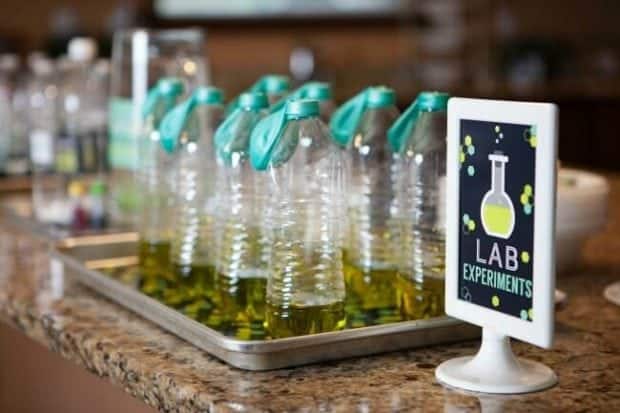 Image Source: spaceshipsandlaserbeams
It will be fantastic to have a science birthday party experiment involving vinegar and baking soda. You can combine the two in a plastic bottle to produce carbon dioxide gas and blow up a balloon. You'll even be more surprised to feel the endothermic reaction taking and see how heavy the balloons will feel.
Conclusion
As we've discussed these awesome science party decor ideas that are perfect for kids and adults, you sure want to try them out at home. For other decoration ideas for homes and offices, do well to check our website. We got tons of incredible designs and ideas!